Be Earth friendly and recycle Nom Nom pet food packaging
Monday, May 07, 2018
By Dan Massey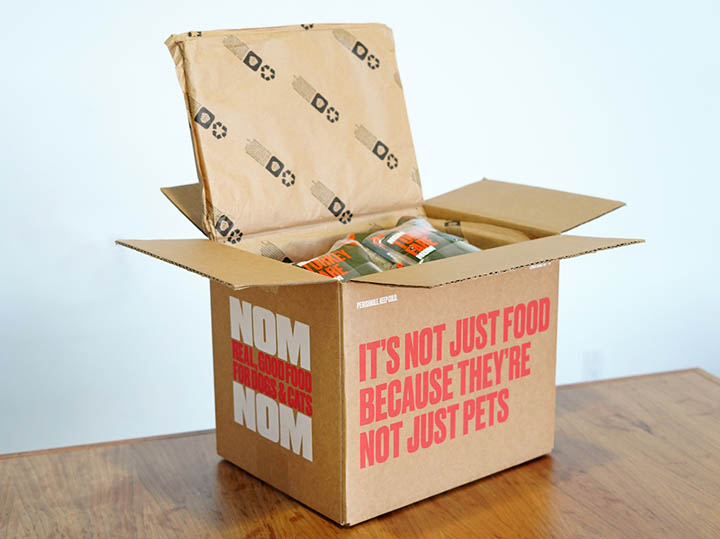 Did you know that Nom Nom materials are reusable and recyclable? Read on for recycling instructions for your box, liner, meal packs, and everything else you find in your healthy shipments!
Recycling the Box
Your cardboard box can be re-used in many ways, or can simply be recycled each week.
To re-use your Nom Nom box, you can collapse the box for easier storing, or put it to use straight away!
To recycle your Nom Nom box, collapse the box, and place it in your recycling bin.
Recycling the Liner
Inside each Nom Nom box, you'll find a liner (it may be silver or it may be brown). This is what keeps your pets' fresh food cool and safe in transit– which makes it very convenient for you, if you need to transport your pets' food! Our one-day liners (silver) are recyclable. Our two-day liners (brown) are made from renewable plant-based components and paper. These can be recycled the same way that cardboard can be recycled.
Let Your Recycled Dry Ice Sublimate
Inside each Nom Nom box, you'll find dry ice, which keeps your fresh Nom Nom at a safe temperature.
Dry ice is very eco-friendly – it's made from recycled CO2 that already exists and would otherwise be released into the atmosphere. Once your box is open, remove meals and place your box in a well-ventilated area to let any remaining dry ice sublimate (break down).
Take care while unpacking! Never touch dry ice with your bare hands. Always make sure an adult is present (children or pets should never open the box themselves). Do not place dry ice on furniture or other surfaces and never dispose of dry ice in a sink, drain or trash can.
Recycling Meal Packs
We choose to individually portion your meals because we know that precise portions are one of the essential keys to a healthier diet. Luckily, all of these meal packs are recyclable!
To recycle your Nom Nom meal packs, simply rinse them out and throw in the recycle bin. You can double check that your local recycling center will accept these hdpe#2 plastic bags at Earth911 or find a nearby recycling center that will.
Does Nom Nom have a recycling program?
In the past, we have tried several recycling programs with our delivery partners to enable your Nom Nom box and packing materials to be re-used week after week. After extensive testing with such programs, it became clear that returning packing materials (not all of which were in a reusable state), created a much larger carbon footprint than having customers recycle packaging on their own.
We are effectively moving away from any such programs, as we ask you to recycle the Nom Nom packing materials you receive in your deliveries, as it's the best thing for keeping our carbon footprint small. We know that being green is a common goal, and we greatly appreciate your efforts in joining us to re-use and recycle!
At Nom Nom, we're committed to helping your dog, and all other dogs, live a happier and healthier life, and that starts with taking care of our planet! As far as we know, it's the only one with tennis balls, squeaky toys, and the healthy ingredients needed to make Nom Nom.
---
Previous article
The Most Dangerous Human Foods for Dogs
Next article
Vitamins and minerals required in dog nutrition
Recent posts