Decreasing Diarrhea: New Findings from Nom Nom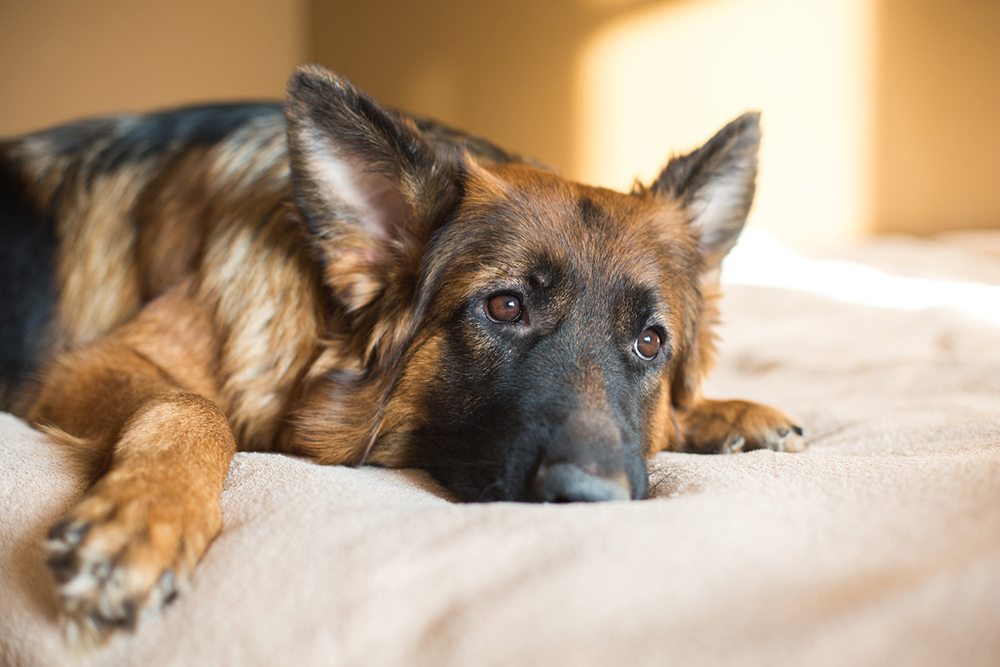 Here at Nom Nom, we're all about healthy and happy pets. We're also big into research. It's not enough for us to just say something is beneficial for your dog — we like to prove it.
A lot of how we learn about pet health comes from studying their microbiome, with our ever-growing database (you can test your pet's gut health here). We know that a healthier microbiome = healthier pet, and that our probiotics can enrich beneficial species of bacteria in your pet's gut.
However, this is the very first time we've shown that our probiotics can also decrease the risk of future diarrhea incidences, even in healthy dogs.
The dogs
We recruited dogs who were generally healthy with low to moderate risk of diarrhea — even healthy dogs can still get a flux every once and awhile. Dogs were also between the ages of 1 and 12, active Nommers of various breeds, and right about at normal weight.
The hypothesis
Our Full Spectrum Probiotics for Dogs, developed by our in-house pet experts, can decrease diarrhea incidence in generally healthy dogs with low to moderate risk of diarrhea (defined as zero to weekly incidences).
The study
In this randomized controlled trial, dogs were randomly placed into either the active probiotic group or the placebo group. But which group they were in wasn't revealed until the end of the study. There were a total of 78 dogs included in analysis, with 42 in the active group, and 36 in the control group.
All participants received a supplement in the mail and were instructed to mix one scoop into the participating pup's breakfast. We asked them to do this for four weeks.
At the beginning of the trial, dog owners were asked to fill out a health assessment survey, which included questions about diarrhea. Then, at the end of the study, they were asked to fill out a similar survey to capture health and diarrhea changes.
For those into statistics, please note we considered a finding to be statistically significant if p<0.05.
The results
So here's the most exciting result: We found that our probiotics significantly reduced the risk of diarrhea after 4 weeks!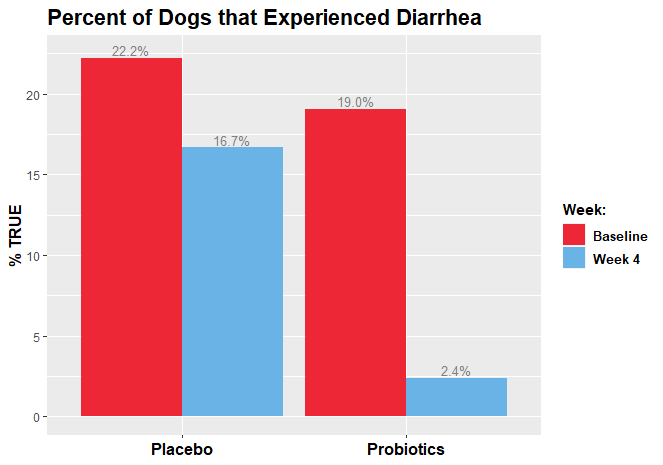 At the start of the study (baseline) we found no significant difference in the occurrence of diarrhea between the two groups; a handful of dogs in both groups experienced diarrhea (19% in the probiotics group & 22% in the placebo group). For those of you following along at home, this is a good indicator that we properly randomized the two groups.
However, at the end of the study (week 4) we did find a significant difference in diarrhea between the two groups. Only about 2% of dogs in the probiotics group experienced diarrhea, while almost 17% of dogs in the placebo group reported experiencing it!
No other gastrointestinal symptoms were significantly impacted by our probiotics during the study period. However, we will mention that we noticed our probiotics tended to reduce vomiting. At the start of the study, 12% of dogs in the probiotics group vomited, and similarly 13% in the placebo group. At the end of the trial, the placebo group still saw vomiting in 13% of dogs while only 5% of dogs in the probiotics group vomited. This difference was not statistically significant, but is still a promising trend.
What else
We also asked owners to score the quality of their dog's stool, and in dogs on our probiotics, owners significantly rated their dog's stool as slightly firmer compared to the start of the study. This is in line with dogs experiencing less diarrhea on our probiotics.
A couple of other things to note: Because we enrolled generally healthy dogs, we were glad to see a few outcomes were not impacted. Weight and frequency of defecation were not changed by the use of probiotics. Since enrolled dogs were close to ideal weight, and had generally healthy bathroom habits, it's a positive sign that these remained consistent.
What's next
We're proud that we can now not only say that our probiotics can improve your dog's gut microbiome, but can also help dogs experience less diarrhea. Our probiotics have a preventative effect, reducing the relative risk of future diarrhea by 85.7% (risk ratio = 0.143) compared to the placebo group.
Findings like this fuel the Nom Nom R&D team, but we're still wondering, what else can our probiotics do? How do our probiotics impact gastrointestinal diseases or allergies? We hope to investigate these questions in some of our future studies.
In the meantime, if you're interested in learning more about our upcoming studies reach out to us at [email protected]. And if you want to see what we've been up to, read more of our blog posts to discover what else is happening with our exciting research.



The Nom Nom R&D team is on the lookout for dogs that experience regular diarrhea to participate in their new GI microbiome trial. Sound like someone in your house? See if your dog qualifies for this paid research study here.
Related articles