Zeus and Zizi's Story: Giving Senior Dogs Fresh Energy
Keisha De Cohen's senior toy Chihuahuas were losing their appetites and energy—but they're like brand new pups since switching to Nom Nom.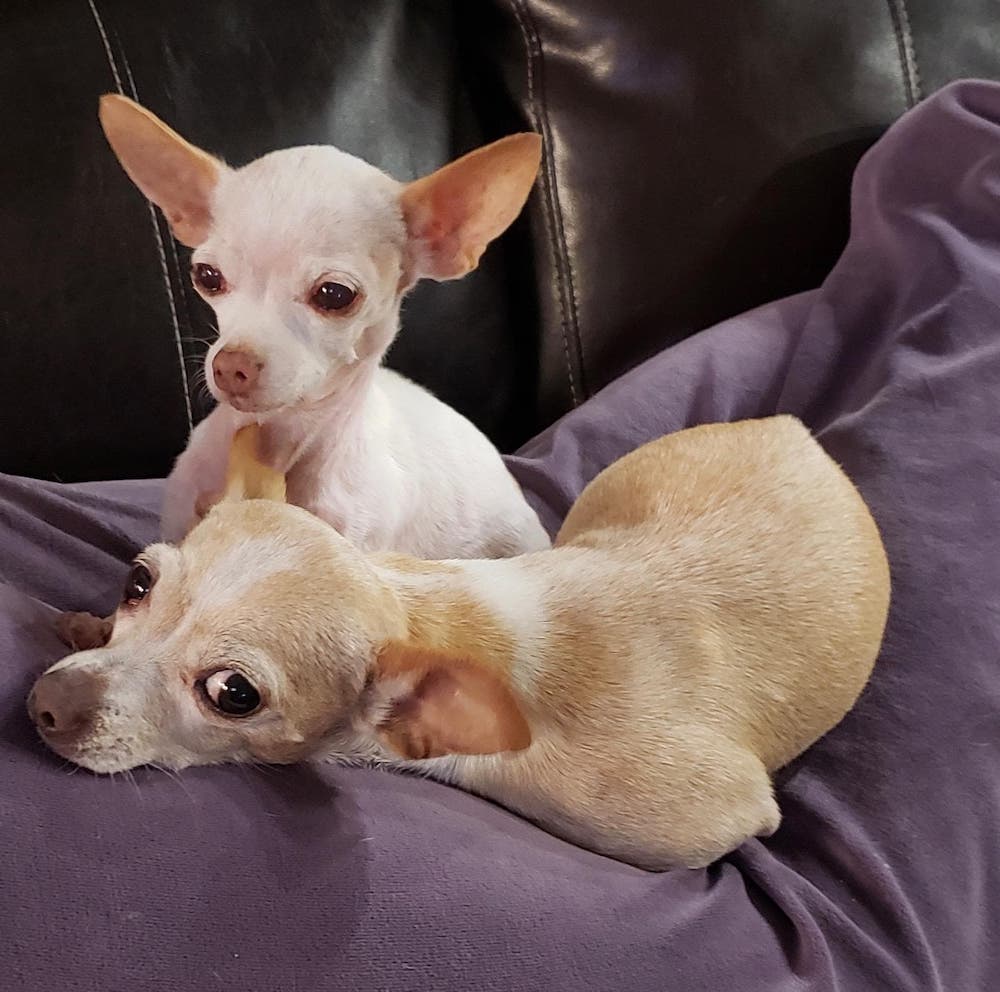 "I feel like your food has extended the life of my pets."
Keisha De Cohen's two littlest loves are her toy Chihuahuas, Zizi and Zeus. Weighing in at just 3.5 and 4lbs, the pups may be petite, but they're hugely important to her family.
Aging dogs, health scares
As they've gotten older—Zizi is now 12 and her daughter Zeus is 9—the dogs have developed some health issues. They were on a standard kibble diet, but as their teeth aged it became difficult for them to eat appropriately. And after a health scare involving a seizure, Keisha's vet thought that Zizi might have a tumor. At her small size, invasive treatment was not an option, and the vet said there wasn't much that could be done besides "just enjoying her while she's here."
Keisha decided to explore her options and see what she could do to give her dogs their happiest, healthiest life. Zizi had lost her appetite, but Keisha was determined to find a solution. She came across Nom Nom in her research and thought she'd give it a shot.
Fresh success
The dogs took to their new Nom Nom diet right away—and the results were remarkable. "Immediately after her first feeding, it was like new life came into her," says Keisha of Zizi. "She perked up immediately." At first, Keisha thought the change might have been just a coincidence, but she decided to keep up with the fresh diet for both dogs and see how things went.
Over the next few weeks, Keisha noticed an incredible difference in both Zeus and Zizi's energy levels and temperament. "It was like they were brand new dogs," she says.
Keisha and her husband, a hazmat paramedic firefighter captain, are thrilled with the success they've seen. "Zizi is still able to run around, she has her energy back. She'll walk upstairs—before she had trouble and now she does it easily. She acts like my puppy some days." And, wonderfully, Zizi has had no more seizures since starting on Nom Nom. "I thought they were going to be horrible last days with Zizi," Keisha says. "But that has not been the case. She still has good days and bad days, but she mostly has good days. I feel like your food has extended the life of my pets."
In addition to the incredible health improvements they've experienced, the dogs love their food. "They think they're human," laughs Keisha. "But I don't like giving them human food. But they love Nom Nom. I think because it's human-grade, they think they're eating human food. And I've tried to give them other treats before, but they look at me like 'I'm not a dog, why are you giving this to me?' But because they love the food, I decided to try the Nom Nom treats and they ate them immediately. Now that's a big part of our house—I say "treat" and Zeus comes running into the room.
"I really do believe that the food you do is so nourishing for them, in their spirit, their coat, their health. It's one of the best things you can do for your pets."
---
Related articles