The Summer Boarding Checklist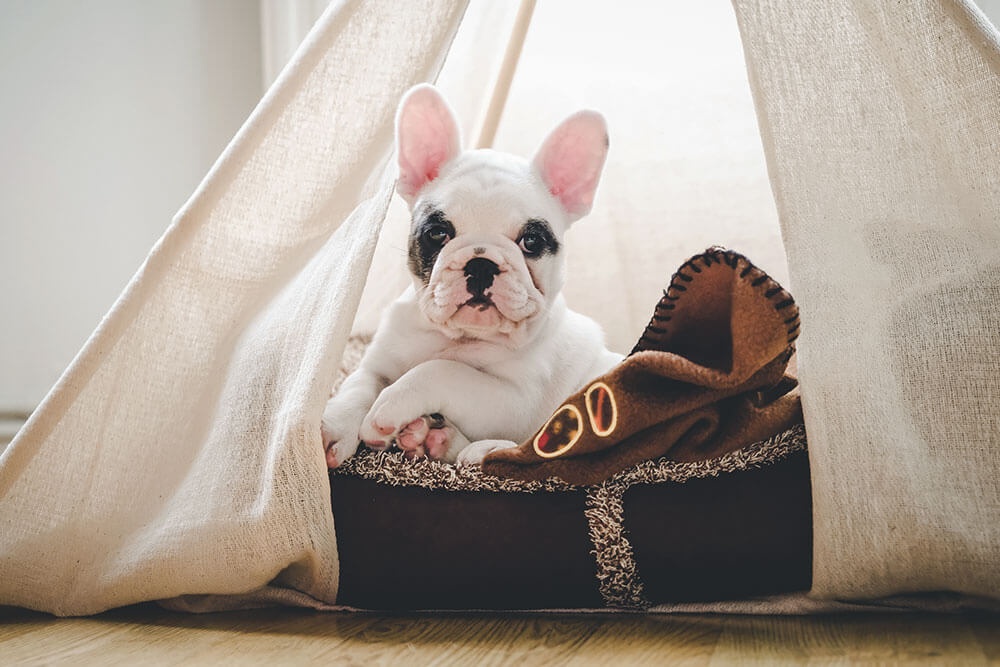 No matter how badly you (and your pup) wish you could bring them to the ends of the earth, there's a good chance they won't have everything exaaactly their way this summer. For the few days you're cashing in on some well-deserved R&R, chances are your dog will be shacking up elsewhere, getting familiar with a whole new set of sights, sounds and smells.
Sounds scary — but it doesn't have to be. Boarding has come a long way since the dawn of the kennel. A quick refresher:
Pet boarding (also known in some circles as pet hotels, pet resorts, and our personal favorite, pet villas) are the kennel's natural successor. Well-tended facilities accepting multiple dogs at a time, and caring for them according to their individual needs.

Out-of-home sitters accept a smaller number of dogs under their roof, providing a slightly homier experience that offers more in the way of personalized attention.

In-home sitters take it a step further, standing in as a full-time you. The royal canine treatment, provided you're comfortable with someone in your space.
Of course, not everyone has a sitter at the ready. So if you're going the boarding route, we put together the only checklist you'll need to unbundle those pet parent nerves.
The paper trail

Your pet hotel should be no stranger to boarding dogs, but they may be a stranger to boarding your dog. Before you start packing up the bags, you'll want to get a few of the vitals in line.
✔️Medical records are a must-have if it's your first time (or first time after a long time) boarding. You'll likely need some proof of vaccinations, prescriptions and veterinary records.

✔️Emergency contact information is also a must. We recommend giving both your information as well as the information of a local friend or family member — just in case something urgent crops up while you're away.

✔️Instructions come in handy for any and all of your dog's picadillos. That could be anything from how they take their pills to how they get along with their fellow canines. If it's "just Precious being Precious," you'll probably want to make note of it.

✔️Photos are surprisingly helpful for the first-time stay as well. They might see hundreds of dogs over the course of the year, so a little visual aid never hurts. (Try not to take it personally.)
The eats
With so many dogs crowding the kitchen, kibble can be a bit of a fiasco. Who gets how much of what… when? Nom Nom's pre-portioned servings strike all the guesswork from the equation.
✔️Count out your meals for every day you'll be gone, then toss in a couple extra for good measure (user error is a thing, after all). Quick reminder: Servings last up to 8 days in the fridge all the way up to 6 months in the freezer.

✔️Make delivery arrangements if you'll be gone for weeks at a time. Log in to your Nom Nom account, add a new address and direct your deliveries to your border's for as long as you'll be away. Or just give us a ring at 415-991-0669 and we'll get it all set up for you. That simple.

✔️Pack all the regular supplements your dog is accustomed to taking. If possible, hold tight on supplementing with any new probiotics or nutrition boosters until you're back in town and can properly monitor their health.
The creature comforts

Difficult as it can be to wave goodbye for a long weekend, it's always a little easier knowing your dog is all geared up with their faves. Just be sure to take a look ahead to see if there are any restrictions on what you can or can't bring.
✔️Your dog's leash and/or collar should have an ID tag, as well as instructions if you're using a harness or muzzle.

✔️Your dog's bed is critical to keeping them calm and comfortable while you're off globetrotting. Protip: Google "dog beds for anxiety" before you take your next trip and dive into the world of calming, plush nests. It's a big one.

✔️Blankets are an angsty dog's best friend. (Next to you, of course). Be sure to send them off with some well-spun cotton to keep your scent close when they're feeling a little homesick.

✔️Prized possessions like chew toys, bones and balls can simulate a little slice of their home turf.

✔️Thundershirts aren't just for the Fourth of July. If your dog suffers from separation anxiety, a warm woolen hug can help take the edge off.

✔️Anti-anxiety aids like CBD, chamomile and melatonin have been shown to help some dogs stave off the scaries. Though talk to your vet well before you trot them out with a new chew.
P.S. Dog boarding has a new normal


Most pet hotels are shifting their business to accommodate for COVID — be that contactless drop-offs, grooming expectations or changes to their cancellation policy. Take care to call ahead and see what protocol is before you show up. A little extra consideration goes a long way in guaranteeing a smooth stay.
Safe travels! Don't forget to write. Take solace in ticking all the boxes and look forward to that smiling slobberpuss just waiting to smother you when you walk back in the door.
Related articles