Rocket's Story: Transforming a Picky Eater's Health in 30 Days
Gwenevere Sebay's miniature Boston Terrier was a picky eater with a sensitive stomach, allergies, and anxiety issues. After just days eating Nom Nom, he became a much healthier, happier pup.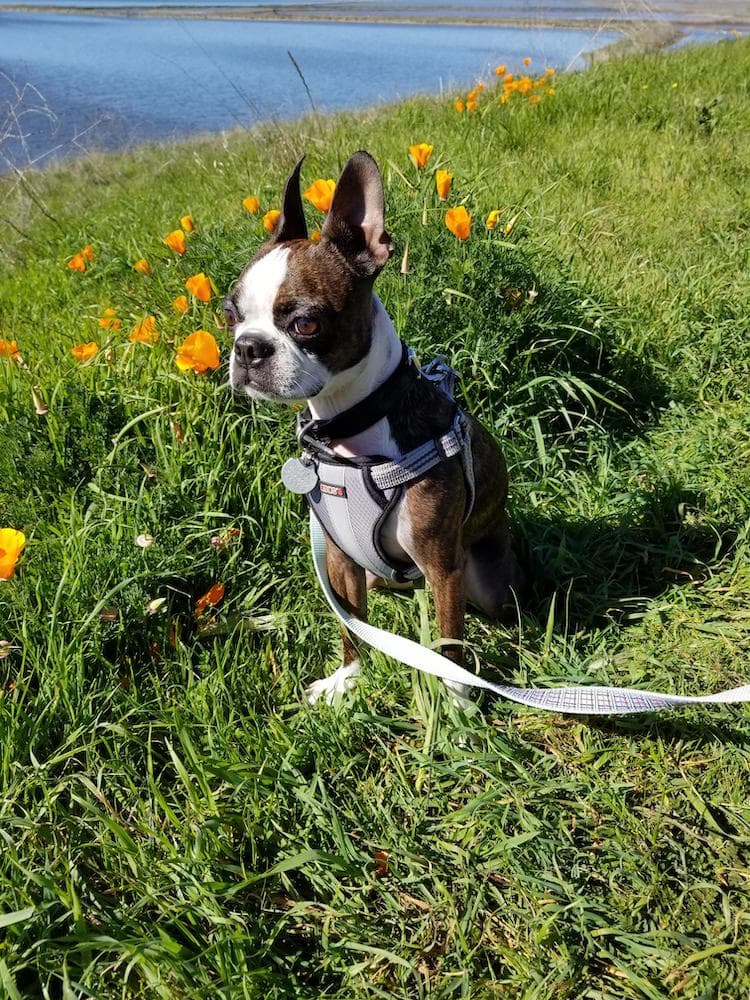 "He used to take all day to eat, but now he licks it clean. His allergies have cleared up, his itchy belly has gone away. He's calmer and happier, too."
Four years ago, Gwenevere Sebay and her husband were reeling from the loss of one of their beloved Boston Terriers. When Gwenevere mentioned that they were looking for a new canine companion, her coworker showed her a picture of a miniature, 11 pound Boston Terrier. It was love at first sight. "I thought, I have to have this dog!" says Gwenevere.
A Rocky Start
The family instantly loved the then two-year-old pup, but he'd had a hard start to his life. "He'd been abused, neglected, and was kind of snappy. But I was determined to have him. You couldn't even pet him, and he didn't like men. But I knew we just needed to be patient." They named him Rocket (he was originally called Cyrus, but they already had a dog named Miley, so they picked a new moniker) and welcomed him into the family.
It turned out that in addition to his emotional issues, Rocket was also a picky eater with a sensitive stomach and allergies. "He had chronic diarrhea, would always throw up, had blood in his stools. He also had a ton of allergies and was always itching, and had red rashes on his stomach."
Given all of this, it was extremely difficult to find food Rocket would eat. "We couldn't find anything he liked, which was getting expensive," Gwenevere says. She'd buy big bags of food she hoped would work, but most of it ended up going to waste. "I thought, we can't keep doing this. He hates the kibble. We'd mix chicken and rice to see if he would eat it, and a lot of times he would turn his nose up at it. He wouldn't eat most of the day, and I was getting really worried."
One day, she saw an ad for a pet food delivery company, which led her to research fresh diets. "I came across Nom Nom, ordered it, and crossed my fingers," she says.
A Total Turnaround
When the food came, Rocket took to it right away. "Before he used to take all day to eat," Gwenevere says, "but I picked up the bowl a minute later and he'd licked it clean!"
Rocket has been eating Nom Nom for over a month now, and is already experiencing incredible results. "His allergies have cleared up, his itchy belly has gone away. His stools are smaller and the diarrhea is gone. I'm excited to tell our vet. And now that he's eating better, I think he's calmer, and happier now that he's not itching, too. He had a rough beginning but turned out to be the sweetest dog ever. He is now a happy and well-fed little guy."
"To go from a dog that wouldn't eat to one that eats everything in the bowl is amazing."
So far, Rocket has been enjoying the Chicken Cuisine, and will try the Porkalicious Potluck in his next delivery. Gwenevere is excited for her pup to experience all the options, and loves that she can customize her recipe rotation. She also loves the convenience and "the idea that you can just open a packet, recycle it, it's so easy. My husband was reluctant but now is totally onboard. Even my six-year-old granddaughter can just open a packet and feed him. And we travel quite a bit, so it's nice to be able to take the packets with us."
Rocket is now six, and happier and healthier than he's ever been, which Gwenevere attributes to Nom Nom. She believes every pet owner deserves to know what a difference it can make. "If you're gonna invest in your health," she says, "do it in the front not the back. Put your focus on being healthy now rather than treating something later."
---
Related articles