Pet Safety Tips for Halloween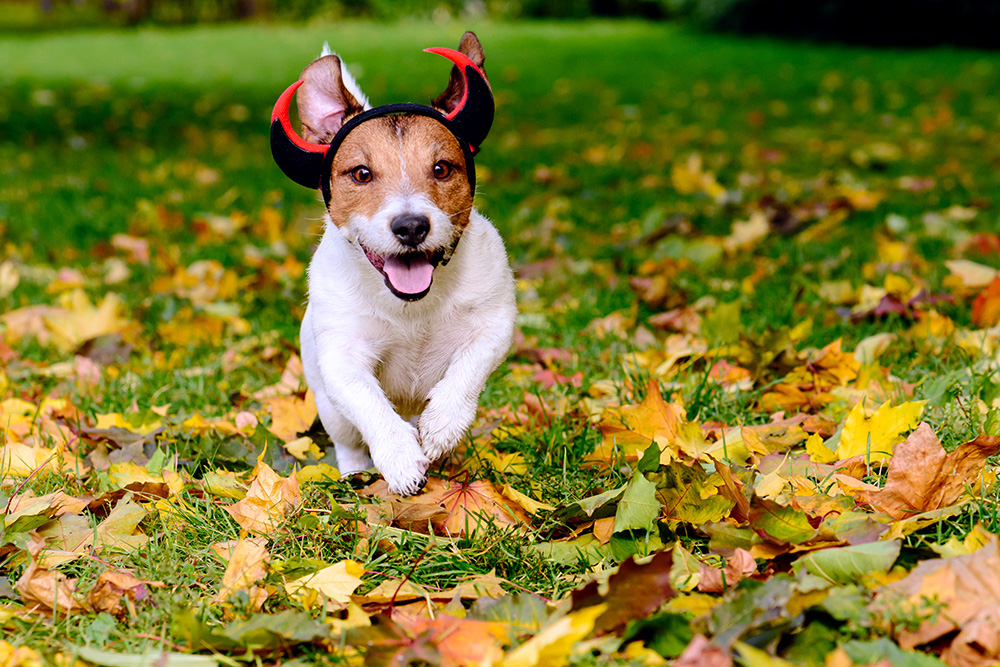 You could argue July 4th. You could argue November 26th. But we'd argue that no day of the year requires quite so much pet maintenance as October 31st.
No heebie-jeebies intended, of course. Even with all the foot traffic, bizzaro sounds and even more bizzaro decor, cats and dogs are perfectly capable of having as much fun on Halloween as we do. In fact, as concerted pet parents, we see it as our responsibility to make sure they have as much fun as we do.
Here's how.
Watch what they eat
Beyond the obvious edible hazards that

chocolate

, sweets and candies of all stripes present, Halloween typically comes with some less-trumpeted dangers you may not immediately call to mind.


Alcohol of any kind (and perhaps most temptingly, sweet liqueurs), can be extremely dangerous — and even fatal — for pets who accidentally consume them.



While gum and breath mints are arguably the biggest disappointment you'll find in any trick-or-treater's pillowcase, they're an even bigger problem for pets. Artificial breath fresheners are filled with synthetic ingredients like xylitol, known for its toxic effects on animals. If they're truly craving something minty-sweet, try our

homemade breath mint recipe

.


Popcorn kernels, while not near as dangerous as candy or alcohol, can create stomach issues for cats and dogs who sneak their way into a bag. They're difficult to digest, particularly unpopped or heavily buttered.


Tinsel, cobwebs, plastic-spiders-on-a-ring (who came up with that one?) — Halloween is full of unfortunately bite-sized inedibles that, to pets, can look scrumptious. It's worth taking a sweep around your house to make sure none of them are within reach.



While your more giving neighbors may be passing out treats to both furry and non-furry family members, it's only worth accepting the generosity if it'll sit right with your pet's stomach. Keep it all in moderation, and for the more extreme cases, the

CDC keeps a running list of outbreaks

related to treats and pet food items you may want to have on hand.
Watch where they step
Indoors or out, Halloween is a never-ending slalom of gravestones, scarecrows and manufactured fog. Keeping a short leash is essential to ensure your pets don't stray too far from the course, whether you're on a walk or doling out candy from the front porch.
The same holds true inside. Potential spills and unfamiliar obstacles may pose a challenge for your pets who've grown accustomed to navigating your home primarily by smell and feel. If your pets have dealt with anxiety in the past or are most comfortable in one particular room (or if your puppy is crate trained), you'll want to urge them into their comfy place.
Side note: The sights and sounds of Halloween can ratchet up a pet's anxiety the same way fireworks do. If your pets are on any current medication or may require an added dose for particularly stressful scenarios, don't chance it. Speak with your vet before the big night arrives.
Watch who they greet
This year, Halloween will look a little different for everyone. COVID-19 and the requisite social distancing guidelines mean most candy handoffs, home visits and get-togethers are off the table. Or at the very least, significantly altered.
As pet health experts, it's beyond our scope to make recommendations for you and your family. But in the interest of your pets, we'd recommend you keep the outside introductions to an absolute minimum. And in the instance you absolutely must invite someone into your home, the Humane Society recommends reminding any potential houseguests of your pet safety rules.
While most visitors only carry the best intentions for your pets, no one's more in tune with their sensitivities than you.
One last thing about those adorable little costumes...
We know how irresistible it is to dress your dog up like the mailman and dress your cat up like the dog. We see the haunting comedy in it, too.
Just remember to inspect each and every costume thoroughly before you start tying capes and straightening antlers. Most pet Halloween costumes don't put a premium on safety, and come rife with choking hazards and foreign materials that could incite an allergic reaction.


Related articles