What Are the Most Common Pet Names?
The Naming of Cats is a difficult matter. So begins a poem in T.S. Eliot's collection titled Old Possum's Book of Practical Cats, the inspiration for Andrew Lloyd Weber's musical. Recent research proving that cats recognize their own names has only raised the stakes further. The naming of dogs, likewise, is no walk in the park--the internet abounds with helpful articles inviting one to weigh factors such as which syllables are easiest for canine ears to detect and which names may inconveniently resemble common commands.
One important consideration, certainly, is name popularity, for reasons practical (for example, summoning your pooch with specificity in a crowded dog park) reasons aesthetic ("a cat needs a name that's particular […] else how can he keep up his tail perpendicular," propounds Eliot) and reasons bureaucratic (the American Kennel Club only permits 37 dogs of each breed to be assigned the same name). Your pet's name might contribute to their life experiences in even more significant ways: a 1948 study showed that, in humans at least, name popularity correlates with academic success.
Whether you're actively seeking inspiration or simply curious about the current pet name zeitgeist, you may be interested in our compilation of the most common names and naming trends in our Nommer database.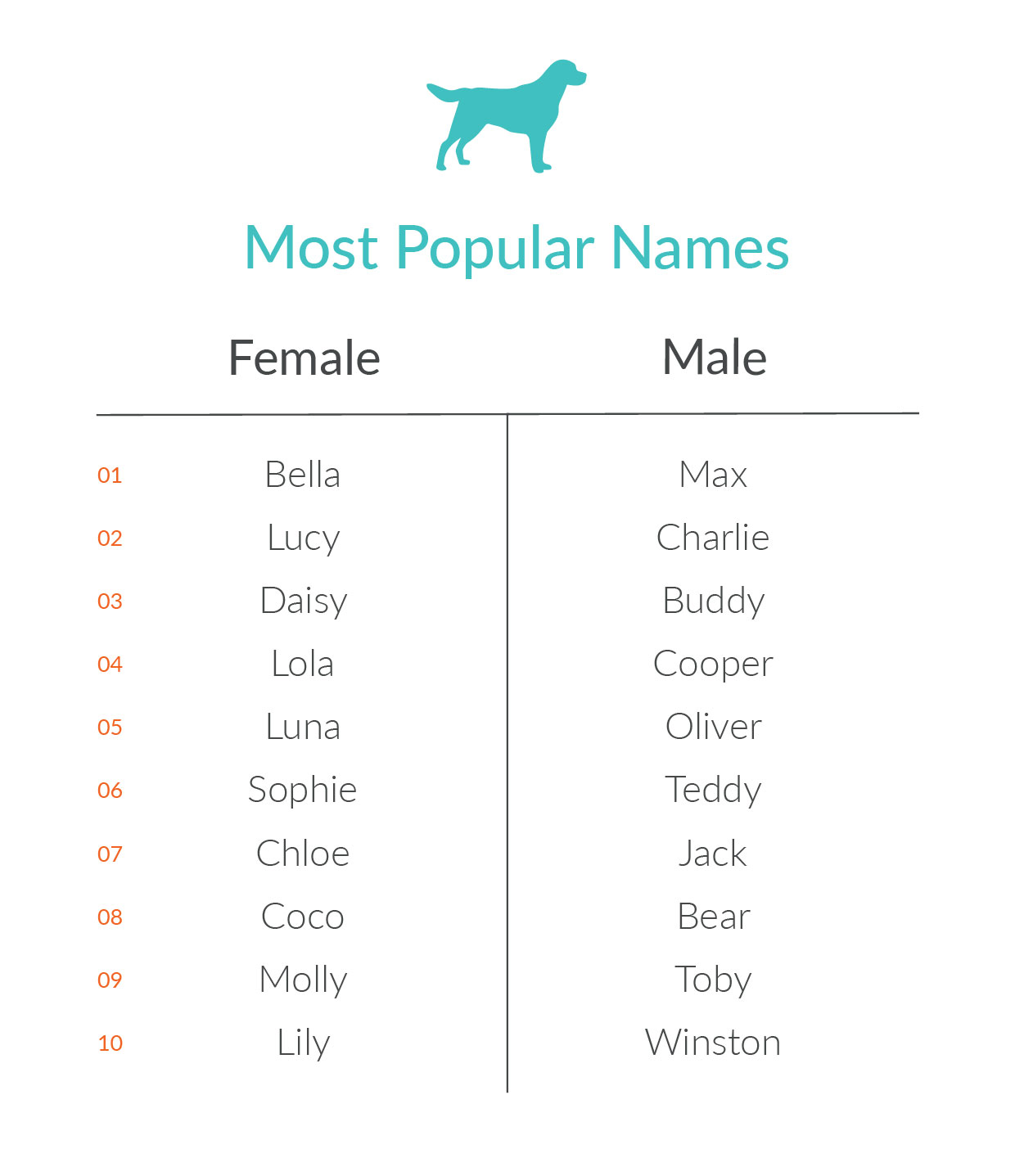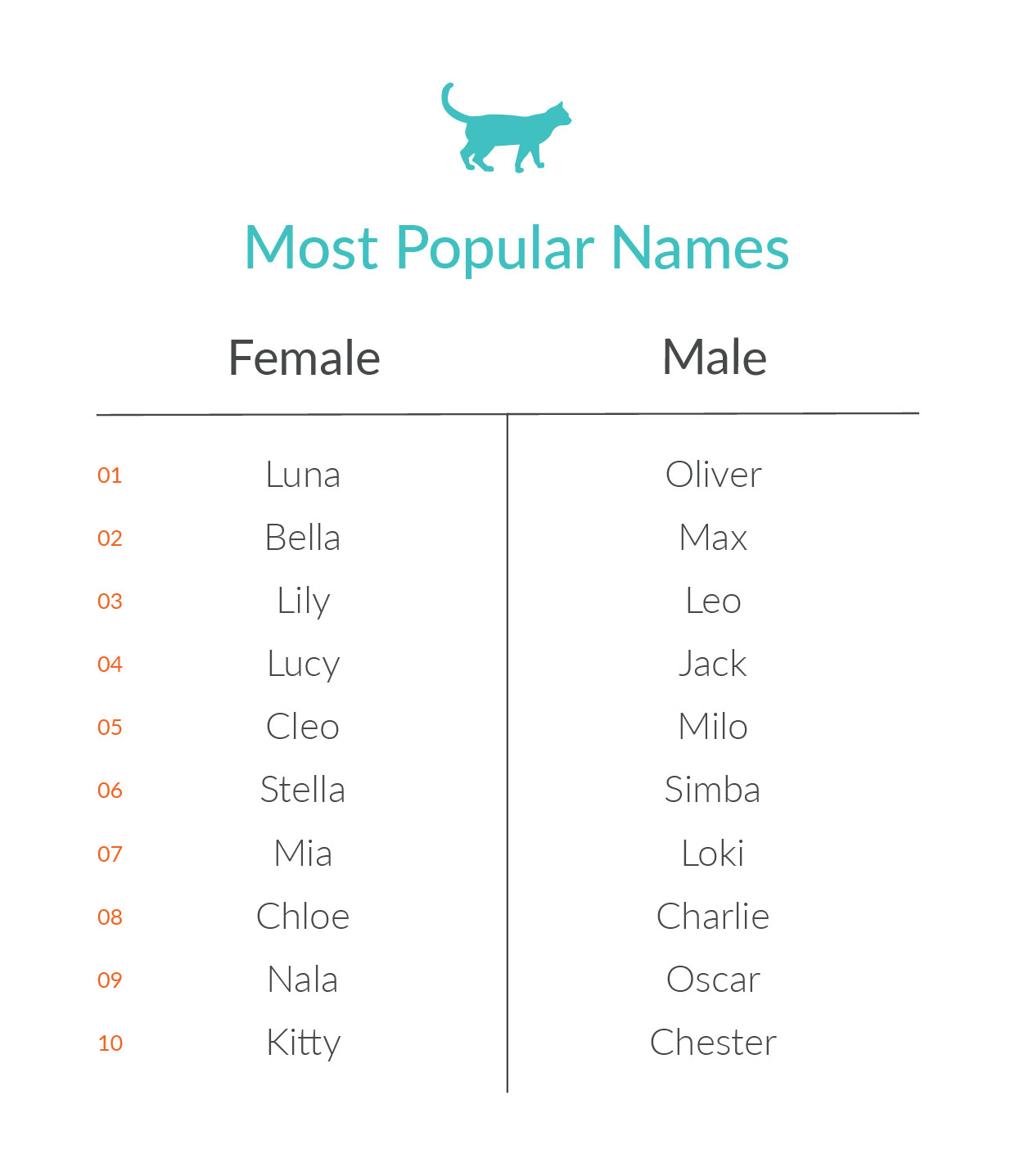 Delicious Darlings:
While "human" names are the most popular, there was an apparent trend of pets named after food, with the most popular being Pepper, Olive, and Ginger. Many pets are named after sweet treats, with Cookie, Mochi, Oreo, and Mocha also in the top 100 names. Others are named after cheeses, the most common of which were Brie, Cheddar, and Stetson. We found that some pet parents got quite inventive: we documented more than one each of Soba, Avocado, and Toblerone.
Musical Mutts:
Many pet parents paid tribute to rock stars, with both Prince and Bowie appearing in the top 250 names, and Miley and Cardi also well represented. There were more Biggies than Tupacs. Gambino and Eminem were tied in the rankings, as were Ozzy and Jagger, Axl and Cher. We found a generous handful Iggys, but unfortunately, it's beyond our ability to decipher whether they're named after Azalea, Pop, or 30's jazz musician Iggy Shevak. Getting down to the fundamentals-- we found pets named Melody and Rhythm, but none named Timbre or Pitch. Synthesizer nerds among us were excited to find quite a few Rolands, but no Moogs, Korgs, or Casios.
Bookish Beloveds:
NomNomNow customers are a well-read bunch, with popular names ranging from Mowgli to Quixote. Shakespearean names were quite popular, with Romeo cracking the top 100 and Juliet close behind, followed by Hamlet, Lear, and Macbeth. Even villains Iago and Regan are represented. Game of Thrones-inspired names are also on-trend: our records show many Khaleesis, followed by Aryas, Tyrions... and one Khal Dogo. Slytherins Bellatrix and Draco ruled the Harry Potter roost, while Frodo and Gandalf are the most popular Lord of the Rings names. Several names proposed in T.S. Eliot's poem (Munkustrap, Quaxo, Coricopat, Bombalurina, and Jellylorum) remain unspoken for.
Brand-name Beauties:
Chanel was by far the favorite luxury brand inspired name, followed by Gucci, Valentino, Dior, Armani, and then a tie between Versace and Prada. Others kept it boozy, with Guinness, Jack Daniels, and Clicquot all represented. Mercedes, Lexus, and Vespa were some of the most common vehicular names.
Historical Hairballs:
Evidently many of you were paying attention in class. This was a popular and diverse category, with names ranging from Mulan to Rousseau to Boudicca. Lincoln was the most-favored American president, followed by Jefferson and Washington. The name Cleopatra soundly beat both (Marc) Antony and (Julius) Caesar combined, and we found multiple Ramseses and Nefertitis. There were twice as many Platos as there were Aristotles, with Socrates falling between the two. No one was named after Diogenes.
Theological Treasures:
Unsurprisingly with the advent of Marvel films, the Norse pantheon was in vogue, with Loki, Thor, and Odin leading the pack respectively. Zeus, true to his status as king of the gods, was the most popular Hellenic name, and Athena and Apollo tied. Kali was the most popular Hindu name, followed by Shiva and Ganesh. Other pet parents drew from Buddhist traditions, with Bodhi being the most popular, followed by Maya and Samsara.
Digging Deeper:
While this analysis only considers name popularity, at NomNomNow we're perpetually trying to learn more about our pets. Do pets with different names have different personalities? Are there names that are more, or less, popular with time? How do names differ across breeds? You can help us answer these questions, and many more, by filling out a health assessment (https://www.nomnomnow.com/insights).