Luna's Story: Helping a Big Dog Reach and Maintain a Healthy Weight
Corine Miller's Australian Shepherd/Blue Heeler mix, Luna, always struggled with her weight—but once she got on Nom Nom, the weight fell off, her energy levels went up, and her coat became super shiny.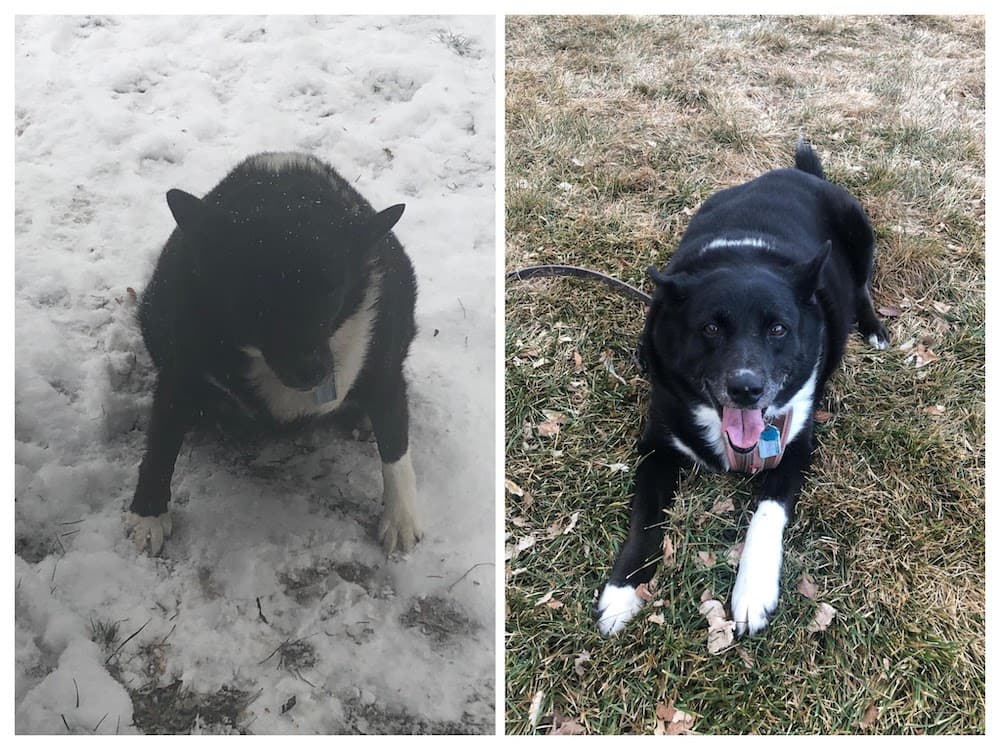 Pictured: Luna the day she started Nom Nom (left) and a few months later (right).
"Once she was strictly on Nom Nom, the weight just started falling off. She's been on it a couple months and her weight is still going down."
Corine Miller adopted Luna, a sweet Australian Shepherd/Blue Heeler mix, when the pup was just 9 months old. Now 8, Luna has always struggled with her weight, but in the last few years it became a bigger problem.
A Weighty Issue
Concerned with Luna's weight, Corine took her to the vet in an attempt to rectify the situation. Luna had never had table scraps and had no thyroid issues, so they started exploring other diets. They tried several, like the green bean diet, but nothing was working—and Luna remained an unhealthy weight. In fact, these diets caused Luna to become food aggressive. "She'd just pick at her food in the morning, and we'd have to watch her around my other dog, because she'd try to eat her food," says Corine.
Trying Something Fresh
Still, Corine held out hope that she could find a solution to help Luna get to and maintain a healthy weight. After doing some research, she read a few reviews about Nom Nom, and decided to give it a try. "I liked that I could put her current weight and weight goal," says Corine.
Unlike other food they'd tried, Luna instantly loved Nom Nom.
"We'd been trying other food for a year and a half with no results, but after a couple of weeks eating Nom Nom, she'd already lost a pound and half."
Pleased with the initial results, Corine kept Luna on Nom Nom. Luna was continuing to lose weight and soon had completely stopped trying to steal her dog-sister's food.
A Healthier, Happier Luna
"Some people are impatient. I wanted immediate results," says Corine. "But I did things the right way, giving her half Nom Nom and half her old food. And then once she was strictly on Nom Nom the weight just started falling off. She's been on it a couple months and her weight is still going down. Luna weighed 85 pounds when she started in November, and a few months later, she's already down to 74."
In addition to the weight loss, Corine has seen numerous benefits since switching Luna to Nom Nom. Because Luna is starting to age, Corine used to have to take her for steroid shots—but she no longer needs them. "I was worried about problems with her hips. She's getting older and was becoming lazy. Now she is more active, a lot happier, and can go around the block twice without getting tired. Before, she could only make it once. She used to just lay on the deck and now she's playing with my other dog. She runs around the backyard. I haven't seen her so playful since she was a pup."
The cosmetic benefits have been great, too. Corine says Luna's thick, long hair is now "super shiny. I couldn't believe it! She used to have dry skin and get dandruff really bad. My mom comes over once a week and says she's seen a big change and always comments that she looks so good."
To anyone who thinks fresh food is expensive, Corine says she disagrees. "You gotta think about what we put into our bodies, the impact on our bodies. Same for pets. I no longer have to spend money on vitamins, shots, or 'diet food' that doesn't work."
Corine is especially thankful for the convenience of delivery and removing the guesswork from portion control.
"Everyone struggles with how much to feed. Am I overfeeding or underfeeeding? How many scoops? I don't have to do that anymore."
Luna now enjoys Nom Nom's Beef Mash daily. "She loves it every day. She still loves it as much as she did at day one," says Corine.
With the great success she's seen with Luna, Corine just switched her cat to Nom Nom as well. "He's 14 or 15 and weighs 16 lbs," says Corine, and she's excited to help him live a healthier, happier life, too.
---
Effective March 28, 2022: we have discontinued our cat foods at this time, due to supply chain and ingredient issues. We are so sorry. Read more here.
Related articles