Liam's Story: An Instant Health Upgrade
Veronica LaPierre's border collie, Liam, was an extremely picky eater with some potent stomach problems. A switch to Nom Nom instantly changed everything for the better.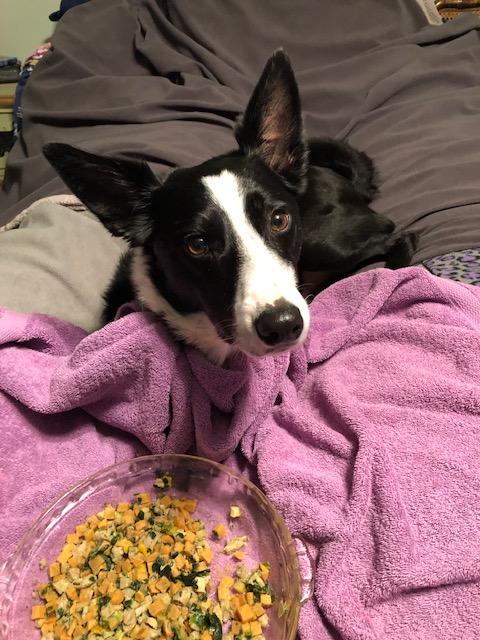 "He ate nothing until we found Nom Nom. It is the BEST. He's my little Nomster Monster."
Veronica LaPierre's 3-year-old border collie, Liam, is a pretty energetic guy and smarter than your average pup. "He's my child, but he is crazy! He's got that neurotic gene. They all have it," she explains of the breed.
Picky, Gassy, and Sick
Veronica is a retired veterinarian who primarily worked with horses, so she's long known the value of feeding animals well. "I never fed him low-grade crappy food. I know better," she says. But Liam has always been quite picky and stubborn by nature. "This dog would not eat anything," she says. "I tried everything: freeze-dried foods, even homemade diets. This is a dog who will turn his nose up at steak! At dinner time I literally had to chase him around the house and beg him to eat."
In addition to his finicky palate, Liam was experiencing a slew of stomach issues. "He picked up giardia when I was working and he was at daycare," laments Veronica. "He had diarrhea all the time, almost every two weeks to the day. And he had green gas clouds! It was SO bad and he was embarrassed about it. He would get me up all night long and he didn't feel good. He also had a bloated look and his coat was on the dull side."
An Immediate Change for the Better
Veronica knew her sweet Liam deserved better. So when she saw an ad for Nom Nom, she decided to give it a whirl.
Happily, Liam instantly took to both the chicken and beef recipes, as well as the chicken jerky ("he loves that stuff"). "When he liked the food, I was shocked," says Veronica. She was thrilled — and better still, all of Liam's stomach issues went away.
"The diarrhea and the gas clouds — he hasn't had either of those since starting Nom Nom."
While Liam always had plenty of energy, Veronica says he has even more now, and he's more focused. "He's no longer bloated and he has that tucked-up fit look now. And his coat is beautiful," she says. "It's soft and shiny looking."
As it turns out, Nom Nom was exactly what Liam and Veronica needed. "Feeding time was a fight, but it's not anymore. He ate nothing until we found Nom Nom. It is the BEST. He's my little Nomster Monster. Now Liam loves to eat his dinner. No more chasing him at dinner time — he actually watches me heat it up and wants to eat! Like a totally different dog!"
---
Related articles