Jack's Story: Transitioning a Picky Cat
Effective March 28, 2022: we have discontinued our cat foods at this time, due to supply chain and ingredient issues. We are so sorry. Read morehere.

Kendall Holbrook was looking for healthy, portioned food that her picky kitty Jack would love. Here's how Nom Nom won the whole family over.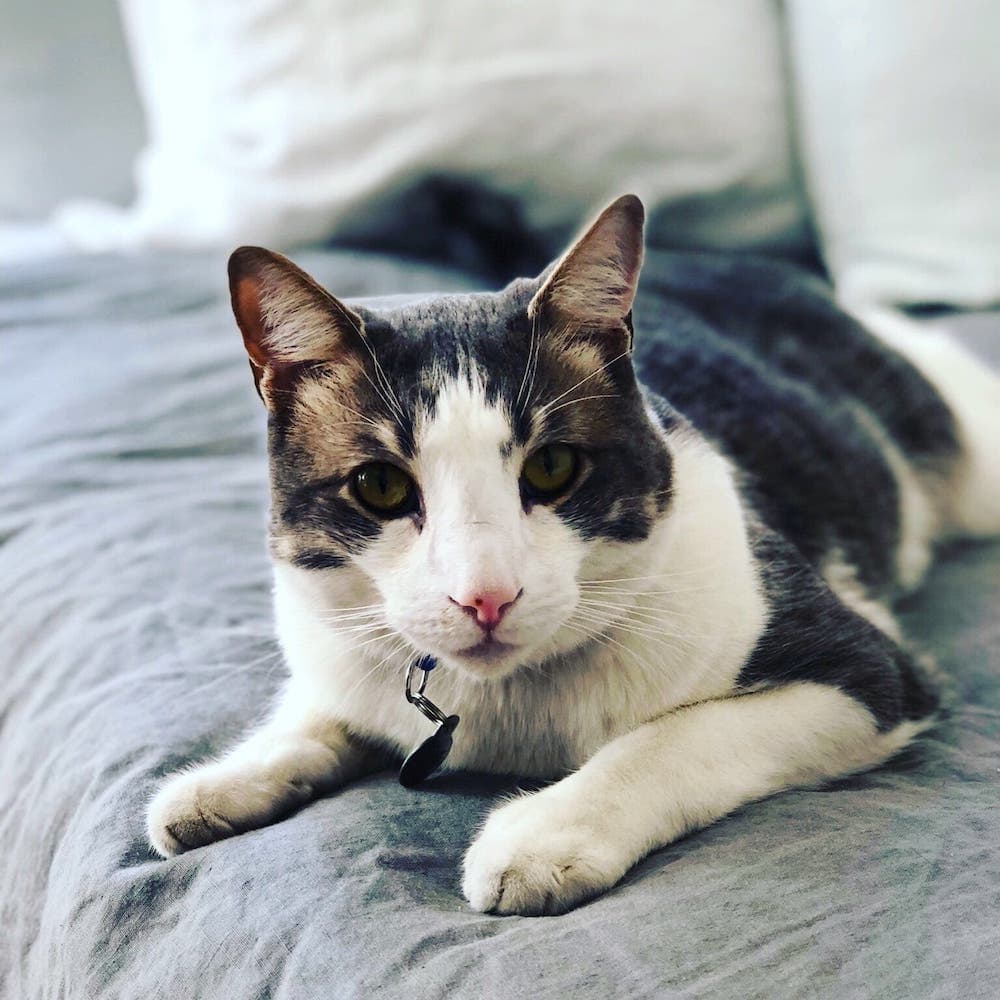 "As busy cat parents, it's great to know that food is one thing we don't have to worry about."
Kendall Holbrook's 3-year-old cat, Jack, is a bigger guy, weighing in at 15lbs. When Kendall and her husband first adopted Jack, they showered him with love – which also meant an unhealthy amount of treats, lots of kibble, and other items that weren't the healthiest for his waistline. "We learned after adopting him how important cat nutrition is, and that 40-50% of cats are overweight, if not obese. Jack's not overweight," says Kendall, "just a bigger-framed cat – and we wanted to make sure he was on a good diet and we were feeding him right."
Jack, like many cats, is also a picky eater. "He's a foodie! He likes the good stuff… he loves Dungeness crab," laughs Kendall. So transitioning him to a new diet of any kind was bound to present its challenges.
Exploring the Options
Kendall and her husband attempted to cook Jack food themselves, but quickly found it was time-consuming and harder than it seemed. "We tried home-cooking, but we are busy working professionals. It was hard to figure out how to make something he really liked, and it just wasn't realistic to keep up with. We needed a solution that worked for all of us. We are definitely busy, but Jack's health and happiness are a priority."
So they started looking for food that was not only healthy but also portion-controlled. Says Kendall, "Even with the healthiest food, cats can take in too many calories if they eat too much. So finding an easy way to control portions was really important to us – making it easy to serve Jack the right amount and know he's getting everything he needs. Plus, we needed to find food that he'd actually like, which isn't easy at all for cats."
They were really excited when they discovered that Nom Nom existed. "It had everything we were looking for: healthy recipes, portion control, and convenience. We loved that we could try both the chicken and the fish, and how high-protein the recipes are. Plus it comes right to our door! You can't beat that for convenience. All of us – especially Jack – get excited when the delivery arrives."
Winning over a Picky Kitty
But the transition wasn't flawless. Cats are naturally neophobic, which means they often resist new things. And Jack, as mentioned, is a tad picky.
"It took a bit of time," says Kendall. "Because he's a picky eater, it wasn't like Day 1 he was 100% on board. Although he did love the jerky treats right away! But we knew from experience, and from the information Nom Nom provided, that we should be patient. We tried some of the tips and tricks they suggested, like adding in Flavor Flakes, warming the food up, adding a little bit of water, and using a separate dish."
"We were patient, knowing that it might take a little bit of time to acclimate him. And lo and behold, each day he ate a little more than he did the day before."
Jack is now an enthusiastic nommer – and his pet parents are delighted. "We're so, so glad we discovered Nom Nom. And Jack's even happier – and lighter!"
For more tips on transitioning your picky kitty to Nom Nom, check out this post.
---
Related articles