Safely Roam About the Country with Your Pets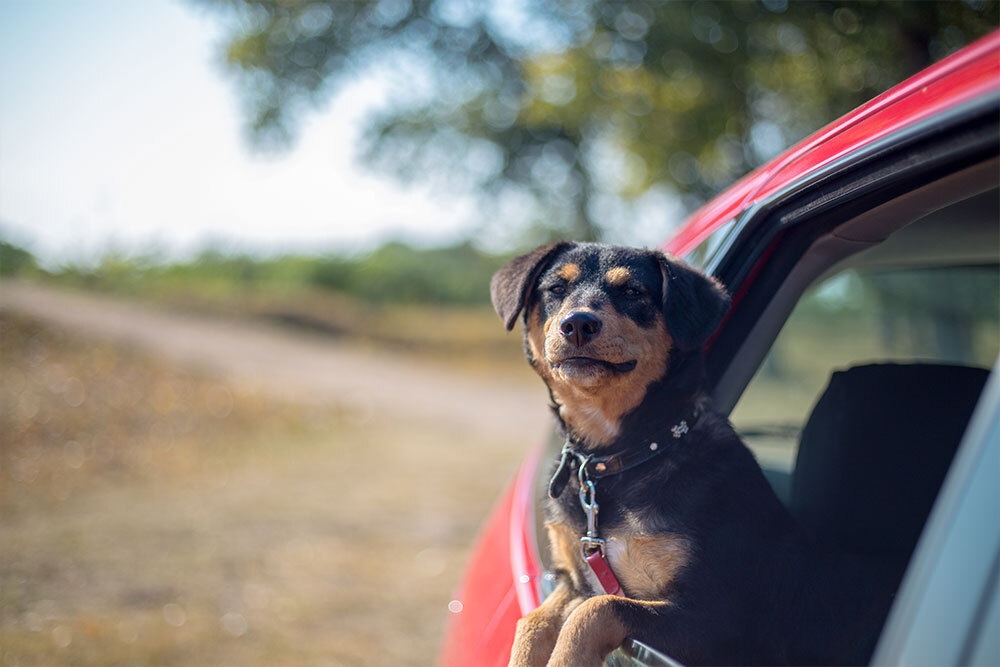 This summer, more than any past, is all about traveling safely and smartly. Especially with our pets. Because they have cabin-fever just the same as us. (Ignore the negative connotations if you're planning a mountain vacation in a log cabin. Sounds great.)
Make sure your pet can ride
Car rides are an adventure all on their own. But if you've never driven long distances with your dog or cat, you might be in for an epic undertaking.
It will

take longer than if it's just you. Frequent stops to make sure your pet is comfortable are key. Yes, we're talking about their ones and their twos. You should also have a clear space within the vehicle for those things to happen if they need to — think litter boxes or pee pads.



In many states it is unlawful to allow your pet to

freely roam inside your car because they can be distractions. Look up the crate, harness and restraint laws in the states, cities and towns you plan to travel through.


If you decide to give your animals free rein within the vehicle, make sure any

child-safety locks are in place, like windows and doors.


Bring their favorite food, treats, toys, bedding and any type of security trinket you can think of. There are many products on the market, from sprays to Thundershirts, to help take the edge off.



And make sure they have

access to water

. Dehydration due to stress can be a cause of a veterinary visit.

Dogs and cats get much of their water from their food. Have

Nom Nom on hand in case they feel like eating — make sure to keep it cool and palatable for the duration of the drive.



Talk to your vet first to see if they can offer a

sedative

for any type of stressful travel — including air travel, which we talk about … now.
Make sure your pet can fly
Airline pet policies have not been greatly affected by new social-distancing, mask and sanitary standards that you'll find on most carriers. So if you've ever traveled by air with your dog or cat before, just ask if there's anything different to expect in 2020.
If you've never bought a paw-panion ticket (We couldn't resist. Sorry, not sorry.) Here are a few things to know about pet-travel by air:
Book flights further out than you usually would — this might not be as applicable right now due to the cutback on flyers, but different flight sizes have certain restrictions as to how many animals can travel within the cabin with their owners. So it pays to be first to book.


Call. Call. Call. Don't rely on online booking when traveling with a pet. And don't try to go through a third-party site. Call the airline booking line directly and let them know you're traveling with an animal — or animals — from the get-go.


Arrive at the airport two hours early, rather than one. You'll need to check in with a human, not a kiosk — whether your pet is traveling in the cabin or in the cargo area.



If you're traveling with your pet

in the cabin

, the rule of thumb is one person per pet. You have to take them out of their carrier when you go through security. It's much easier to corral a scared dog or cat on a one-on-one basis. (HINT: they

don't

go through the x-ray machine.) Let TSA know you have an animal, and they'll direct you and your party to a metal-detector queue.


Travel kennels

are important. Airlines have certain restrictions on what will fit under a seat (

Do Not

put your pet in an overhead compartment.) and what can go in a hold. Follow them, but also think about comfort for both you and your pet. Running to your gate with a hard-side carrier with only a handle wouldn't be fun for either of you. Look at padding, soft-sides and shoulder harnesses for in-cabin vessels and hard-sided

dog and cat crates

, with interior padding and pet-appropriate-size for under-cabin.



Remember

food and water

. Moist pet food is considered solid by the TSA, but you may be asked to remove your Nom Nom from your carry-on luggage during the screening process. Ice packs are fine when frozen, but if mushy they need to follow 3-1-1 rules.
Make sure your pet can stay
We just laid a lot on you about traveling with a dog or cat — or both at the same time. When looking for pet friendly hotels, our advice has a bit more brevity. Do an online search for hotels that are pet friendly.
There are many out there, in multiple price ranges. So take your pick. They'll have designated rooms, or even halls, that are pet-friendly. But, do make sure to let them know you're bringing your dog or cat. And there will probably be a fee — but not as much as paying for an unapproved pet-stay after the fact.
Bring everything you'll need to make your pet comfortable. For dogs — food, bowls, bedding, treats and toys. For cats — food, bowls, bedding, treats, toys and litter box with scoop. Also — consider pee pads for both. Put them near the door for dogs and under the box for cats. (It could save you a large tip for the maid.)
Speaking of maids — if you decide to leave your pet in the room alone, put out your do-not-disturb sign. And leave the TV on while you're gone to drown out some of the foreign noises from outside the room.
Make sure your pet can play
Not many people take their cats hiking or for a day at the beach, but dogs are faithful outdoor companions for many excursions, even extended camping trips.
Cliché, yes, but know before you go. Even in public areas that dogs are allowed, there are rules — and in many cases, laws — to follow. Look them up, it only takes a few minutes. For instance, if you're thinking about visiting a United States National Park, here are the ones that welcome dogs and where they're allowed.
Dog friendly beaches, campsites and hiking trails are just a Google away.
Make sure your pet has enough to eat
Effective March 28, 2022: we have discontinued our cat foods at this time, due to supply chain and ingredient issues. We are so sorry. Read more here.

Nom Nom meals are perfectly portioned, so they're super easy to take with you. No scooping or measuring required. Just remember to keep it cool. (HINT: if you have a recent Nom Nom shipping box with insulation, just add ice packs and you're good to go.)
Bring your Nom Nom:


We can send multiple weeks of fresh food and

reschedule your next order for your return

— just let us know two weeks ahead of time on your account page


Wrap frozen meal packs along with ice or ice packs during travel to ensure your pet's meals are kept at or below 40°F and treat them like you would your own food



Once you arrive, place meals in a freezer or cooler, and move to the fridge 24-48 hours before feeding, allowing them to defrost on their own
Ship your Nom Nom:


If you'll be traveling within the continental U.S., it's easy to have your pet's meals meet you at your destination — just give us a call/text at 415-991-0669 so we can figure out the correct schedule
Traveling with your dogs and cats can be stressful for all involved. But, if you make it fun and bring a taste of home you can do it safely and smartly. Have a good time out there!