Dogs VS Cats: Health Issues Edition
We welcome you to the first edition of the Dogs VS Cats series where we compare and contrast various features between the two species of our beloved furry friends. In this edition, we will look at some health issues commonly seen in both dogs and cats to determine which is at higher risk. We created a health assessment survey that provides us insights on how common these health issues are, and collected data from more than 2,600 dogs and cats. We shall see who will win this first round!
Stinky Breath
At higher risk: Dogs
While 34% of dog parents report their pup having "mildly offensive" or "very offensive" breath, only 25% of cat parents do so. Bad breath may not necessarily mean something is wrong, but it can be caused by poor oral hygiene, periodontal disease, or the consumption of smelly food. As more information about the role of oral bacteria in health is emerging, bad breath may also be a sign of chronic diseases such as diabetes and renal disease. Be sure to schedule a vet visit if you notice a sudden change in the smell of their breath.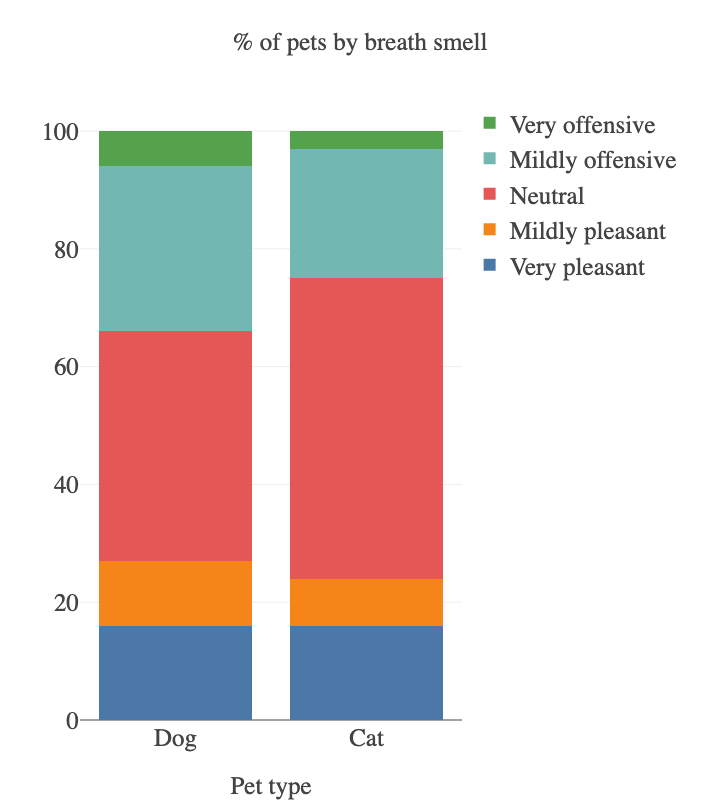 Vomiting
At higher risk: Cats
As cat parents already know, kittens have a very sensitive digestive system. Whereas 2% of dogs are reported to have chronic vomiting, the number reaches 9% in cats! Over half of cats-- but only a third of dogs-- have been observed vomiting at least once in the last month. Vomiting in cats may not be something serious if the vomited material is mainly hairballs, however, increased vomiting frequency and severity may require special attention.
Joint issues
At higher risk: Dogs
Joint issues are more common in dogs, as 18% of dogs but only 7% of cats report having at least one joint issue. Arthritis is the most common joint issue reported in both cats and dogs. Age and body size are also important risk factors, therefore large senior dogs need special care from their pet parents. Ask your vet for a recommendation on choosing the right dietary supplements for joint health for your dogs or cats.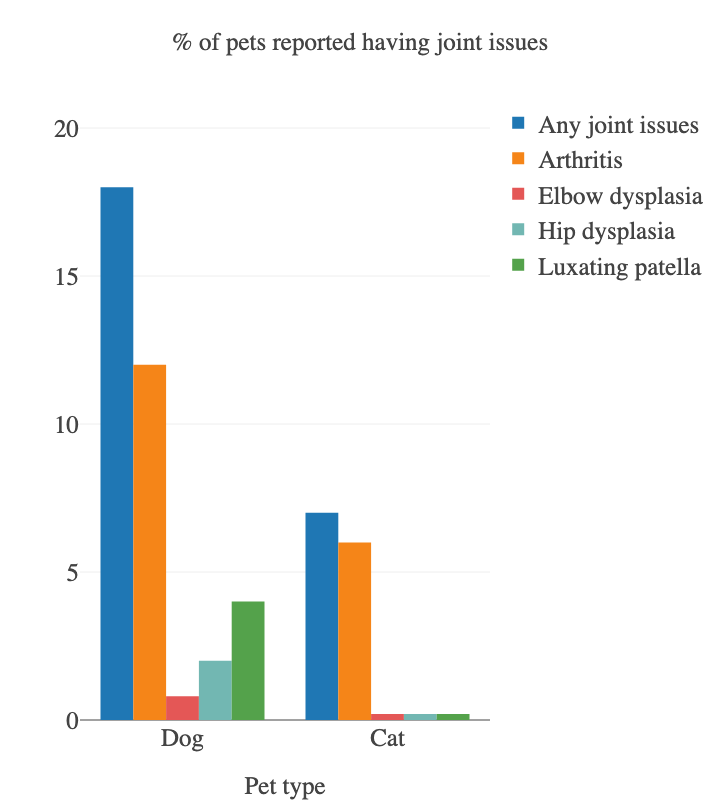 Obesity
At higher risk: Cats
It's a close call, but a higher percentage of cat parents (30.2%) report their cats being overweight or obese as compared to their dog counterparts (28.6%). Obesity is a big health concern because it increases the risks of other diseases such as diabetes (in cats) and heart disease (in both dogs and cats), both of which could be fatal. An increase in energy expenditure (through exercise) together with a decrease in caloric consumption (through diet) is needed to achieve weight loss. Feeding your pets a well-balanced diet that promotes weight loss is one way to express your love for them.
Final Results: It's a tie!
Although cats and dogs are at risk for different health conditions, lifestyle changes such as feeding a nutritious diet along with high quality dietary supplements can improve overall health. No matter if you are a dog or a cat parent, your pets are very lucky to have you take care of them!
Want to know more? Us too! By taking our health assessment survey, you can help us uncover more insights on health issues and their risk factors in both dogs and cats that drives our scientific research.