Bailey's Story: Curing Allergies with Fresh Food
Jodie Dalto's Imperial Shih Tzu was a picky eater who developed terrible allergies and would lick his paws until they bled. Nothing helped until Nom Nom came into the picture, curing Bailey's allergies and getting him excited about food for the first time in his life.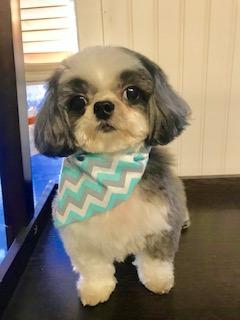 "The difference is amazing. He does not lick his paws anymore and he can hardly wait for the next meal."
When Jodie Dalto adopted her Imperial Shih Tzu, Bailey, she was told that he was 8 weeks old. It turned out he was only 3 weeks old, and had never been properly weaned. They didn't expect Bailey to make it, but the petite pup pulled through.
Picky and Itchy
But it wasn't all smooth sailing from there. Bailey never had much of an appetite, and Jodie would try everything to get him to eat, including adding her own peas and carrots to food and feeding him out of the palm of her hand.
About four years ago, Bailey developed allergies. "He began to have eye issues, and would also be biting at his paws to the point where they would bleed," says Jodie. A vet put him on steroid eye drops, oatmeal wash, an allergy tablet, and prescription dog food, but his allergy symptoms were only getting worse.
Because they live right on the beach, Jodie thought the reaction might be from salt in the air or mold spores. She began researching his symptoms online and discovered an unexpected potential cause. "I learned that if a dog food has a brown color, more than likely it was from a dye, and sometimes a dog can be allergic to the dye," says Jodie. "So I started investigating anything that didn't have it in it." But she was surprised to learn that even brands she'd thought of as "good food" often contained the dye.
Real Food, Real Results
After a little more research, she started reading articles about other families who have their pets on Nom Nom. "I was delighted to see it was real food, and thought we'd try it," says Jodie, who was also excited to see that Nom Nom uses no artificial ingredients, dyes, additives, or preservatives.
Despite never having a love for food his entire life, Bailey went wild for Nom Nom's fresh recipes. "Within two feedings, he was demanding to eat. He adores it. Rather than taking all day long to eat one portion, like he would with every other food, he'll eat it in five seconds. He can hardly wait for his next meal," Jodie says.
Even better: just two days after starting Nom Nom, Bailey stopped biting his paws. "The difference is amazing," says Jodie. "He does not lick his paws anymore and he can hardly wait for the next meal."
"Not only is he not biting his paws but he LOVES his food!!"
Jodie, for her part, adores ordering from Nom Nom, too. "The convenience is fabulous. When you go out of town, you can just stick it in a cooler. I love that you can run hot water over it to heat it up if you want to spoil your dog. I could not be more thrilled. Y'all need to try this food."
---
Related articles