You can just call us Nom Nom, Now
Monday, February 24, 2020
By Kyle Bunthuwong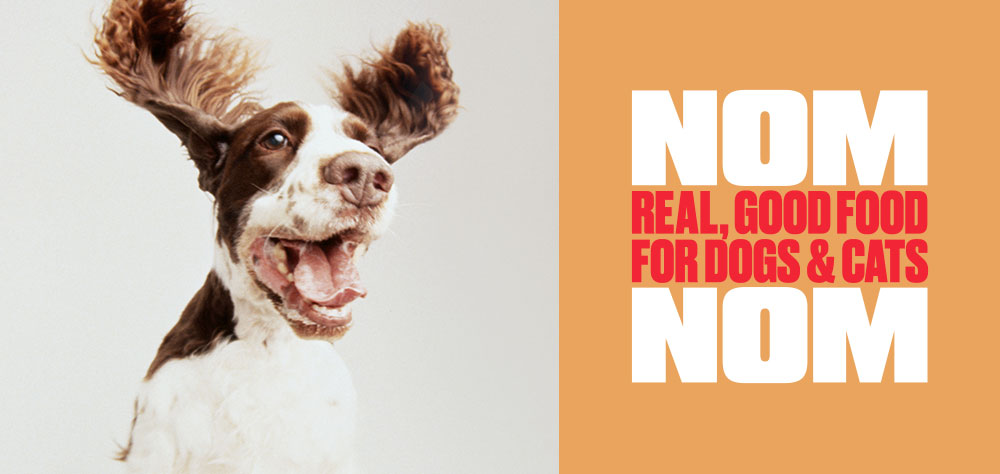 Just five years ago we were four people and two dogs cooking in one kitchen and delivering to San Francisco in cardboard lunch boxes. Who would have guessed that today we'd be proudly announcing a new chapter for our company? Others might call it a rebrand — but we think of it as a recommitment.
Our now 177-person, 106-dog and 83-cat (and one pig, if you're counting) team is doubling down on our values of integrity of ingredients, ownership of process, pre-portioning of meals and quality of customer experience across all of our facilities from California to Tennessee.
In our new brand voice, we put it this way: SOURCED, COOKED, MIXED AND PACKED WITH CARE. It's bold(er). It's purposeful. It's simple. So simple that now you can just call us Nom Nom — as if you weren't already.
Starting today, you'll be seeing an updated look. It has energy. And vibrance. And pets. Healthy pets. Lots of pets. Maybe your pets (send those pics and vids filling your Cloud our way). BUT. You might be seeing our old look in your deliveries for a bit. Don't worry, there is a reason.
As far as we can tell from our research, this is the only planet lucky enough to serve as home to both dogs and cats. So we're committed to zero-waste during this transition — to protect this planet. Just because the look is old doesn't mean the food is old.
While we roll out bright new labels — we'll also be using up all our old boxes. As we adopt new recyclable liners that keep food colder for those of you a few days away — those of you closer will still continue to receive the same recyclable liners you've come to know and love (#always♻). And as we create all-new colorful informational inserts — we're still cooking your food to order.
Because, while we might be changing a lot on the outside, we're still firm believers that it's what's on the inside that counts. Literally, what's inside our new packaging matters most to us. As always.
There's a lot of exciting things to come. We're launching a whole new side of Nom Nom, Nom Nom Plus, to further pet health beyond the bowl. (In fact, the next blog post will share our realization that we're not a pet food company. We're a pet health company.) And we're excited to see what's to come in the next five years and hope you are too.
SO YOU'RE IN THE LOOP:
Are the recipes different?
No, our recipes are exactly the same. We take great care in formulating, balancing, and testing our recipes. Any changes would risk that balance and we would never risk delivering food that isn't exactly what your pet needs. The only difference you will notice is the label on our meals.
Did anything about the way you prepare the food change?
No, we have not changed our preparation process for our meals. Digestibility, nutrient availability, and palatability of our meals are very important. We have a new look but our process and product remain unchanged.
Is Nom Nom under new ownership?
No, we are still led by our original founding team. Our team has grown to support the dogs and cats we serve but ownership has not changed.
Why am I still receiving the packaging I always have been?
Even with change, we prioritize the planet (because it is the only one we know of with cats and dogs). That means being a zero waste operation. Over the coming months, we will continue to use any existing inventory of labels, boxes, and liners. We apologize for the inconsistent experience, but know that this is as important to you as it is to us.
I am receiving meals with existing labels. Does that mean the food is old?
No, it does not. Your pet's meals are still being prepared fresh but we are using our inventory of current labels to ensure no waste as we transition.
Our commitment to our customers and the health of their pets is at the heart of this change so, as always, please contact us if you have any questions that aren't answered here.
Previous article
DCM And Your Dog's Food: What You Need to Know
Next article
It's Not Just Food, Because They're Not Just Pets
Recent posts