The Nom Nom Story
Wednesday, November 02, 2016
By Kyle Bunthuwong
Grounded in the belief that better nutrition is a key component in both preventative and curative care in companion animals, Nom Nom is a pet health company that offers fresh food, supplements, gut screenings and other resources to pet parents. In human? WE BELIEVE WHAT'S GOOD FOR PEOPLE IS GOOD FOR PETS.
Our direct-to-consumer fresh pet food is prepared every week with fresh, high quality ingredients, without the nutrients cooked (or mashed out). Food arrives cold, in pre-portioned packages because cats and dogs need their calories counted too. And we actively study the microbiome (gut) of our paw-footed friends to better understand the impact of nutrition on health and inform our board-certified-veterinary-nutritionist-created recipes.
We've heard from Nommers across all 48 contiguous states (otherwise known as our delivery footprint) that the science of fresh food and probiotics shows. They report shinier, softer coats, increased energy, brighter eyes, improved weight control, and better overall mood and health.
To that, we say, GO PETS GO!
---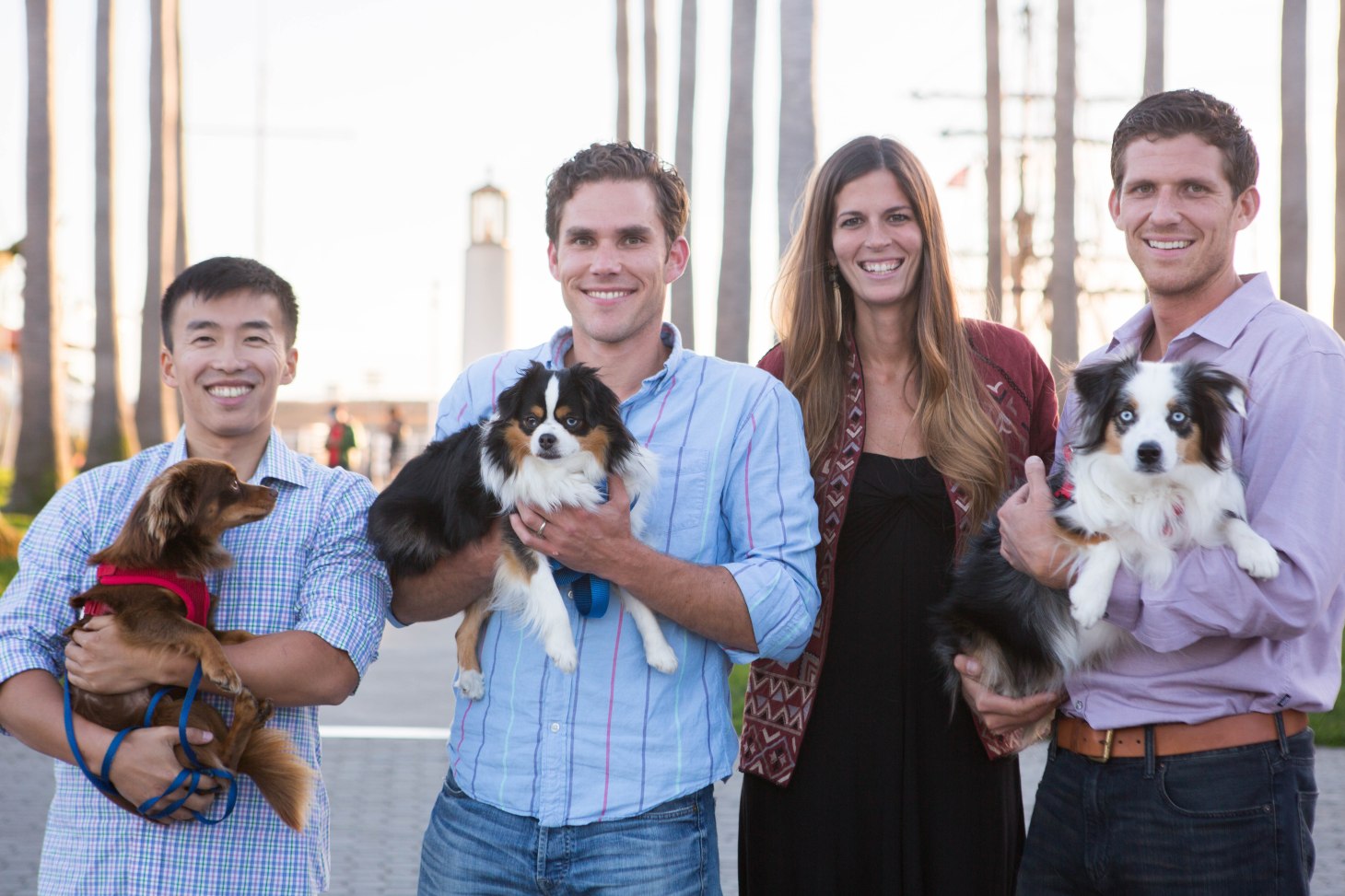 The story begins with a pair of mini Australian Shepherds named Harlee and Mim, and a handful of dog lovers in San Francisco.
In February 2013 what would become the founding family team of NomNomNow — now known as Nom Nom — went to casually look at puppies. Alex, Zach & Nate all grew up with dogs but hadn't had them for decades as college and career got in the way. As all dog owners know, looking at puppies is not a casual activity as they're liable to steal your heart! Naturally the group fell in love at first sight, and adopted half-sisters Mim and Harlee.
Bringing home the girls now meant searching for dog food, and the team was surprised to see how little had changed in the dog food space since the 1980s: most dog food was still kibble or canned, filled with unpronounceable ingredients and industrial filler - the dog equivalent of microwaveable dinners. Surely there had to be a better solution. Just as we've learned about how important real, fresh food is to people, the same must be true for dogs.
Beginning in late 2014, the team began experimenting with cooking and delivering fresh food for friends and family. Cooking fresh took on added urgency as Harlee developed health issues related to a compromised immune system, and her vet recommended a fully fresh diet. As Harlee's health improved and rave reviews about the food and service came in, Nate, Zach and Alex decided that the missing piece in the process was an expert nutritionist who could formulate the best possible recipes.
Enter Dr. Justin Shmalberg, a clinician and professor at a leading college of veterinary medicine and one of the world's foremost experts on cutting-edge dog nutrition. Dr. Shmalberg is a core member of the Nom Nom team and was personally involved in the formulation of each of our initial recipes to ensure that our customers receive the best possible food for their dogs.
We'd love for you to give us a try and join the fresh food revolution.
---
Next article
Pet Health & Technology
Recent posts