Announcing NomNomNow Series A Funding, and Fresh Nutrition for Cats!
Tuesday, May 15, 2018
By Dan Massey
The pet food industry hasn't changed much since the 1950s. Most of the dog and cat food products on shelves today are low-quality kibbles, full of questionable ingredients and unhealthy fillers. We started NomNomNow to fill a huge gap in the industry and provide pet owners with healthy, fresh, delicious food to help their pets live longer better lives. To continue that mission, we've raised $13M in venture funding, which we announced last week.
This financing will allow us to expand operations across the country, increase production capacity, further invest in data and proprietary software, develop new products, and make key hires to support our growth. Ultimately, we plan to make made-to-order fresh food for pets across the country and to provide a world-class customer experience.
Perhaps our most exciting new expansion is that we're now serving cats! Today, we announced that feline fresh nutrition is here, with NomNomNow for Cats. Our two purr-worthy recipes were expertly formulated by the board-certified veterinary nutritionist, Dr. Justin Shmalberg, who strongly believes in the power of alternative nutrition as preventative medicine for pets.
Each ingredient in our recipes serves a valuable purpose for your cat, with nothing unnecessary. Both were designed to mimic the nutritional makeup of small prey mammals (and the carbohydrates in their digestive systems) that cats traditionally would catch in the wild. Unlike kibble, our recipes are high in water and low in carbohydrates. Cats get most of their water from their food, and hydration in felines can be helpful in preventing urinary tract issues. And like our beloved dog food, each NomNomNow recipe for cats is pre-portioned based on the specific nutritional requirements of each cat. This is an incredibly effective tool in addressing feline obesity, which has risen consistently over the years.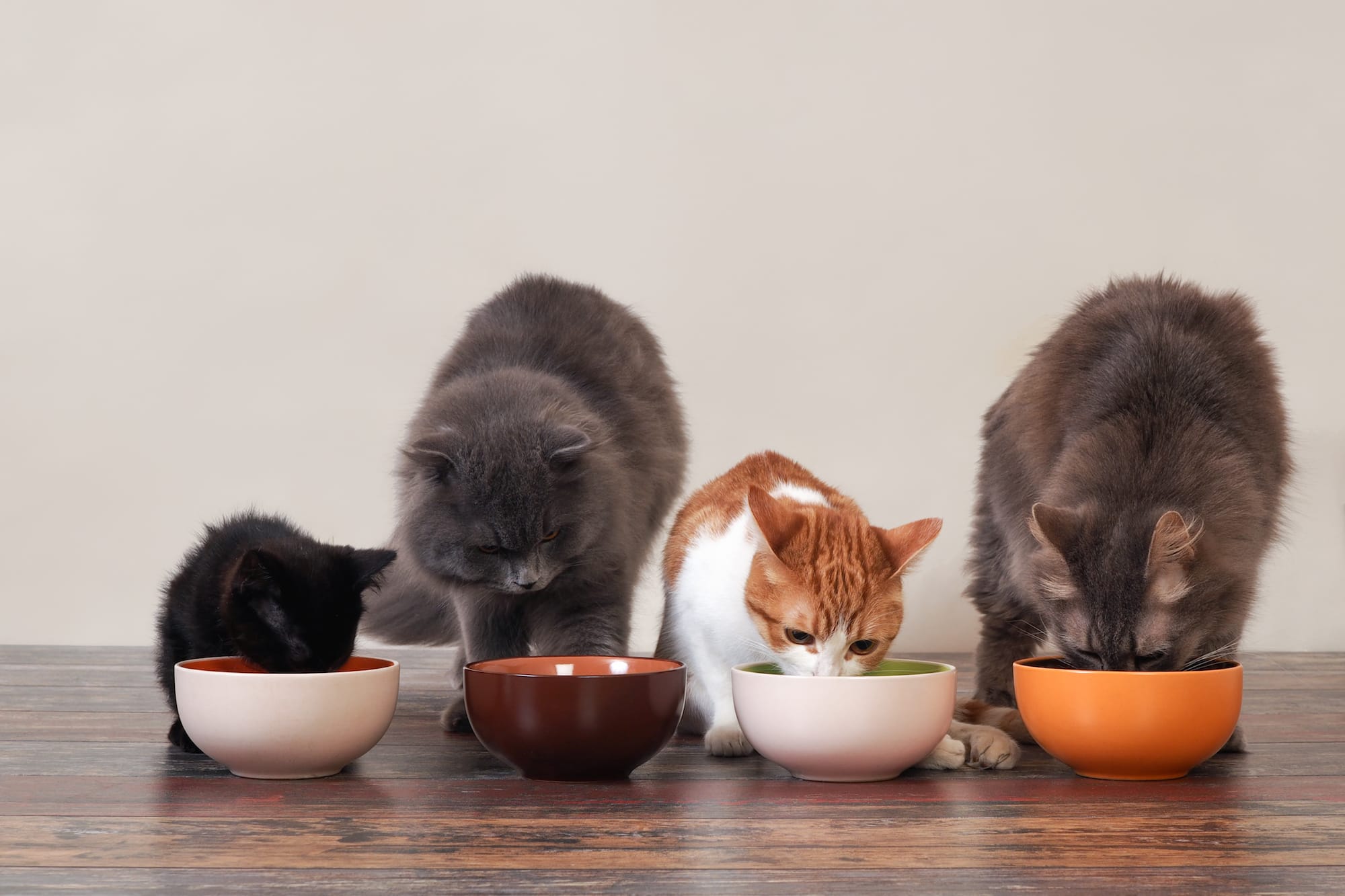 Learn about our recipes!
Chicken Chow-Meow
Chicken thigh, chicken breast, chicken liver (a tasty protein source full of iron, copper and vitamin D)
Carrot (with vitamin A, for eyesight)
Asparagus (a great source of vitamins and minerals, including potassium)
Spinach (a superfood that boosts the immune system and strengthens the digestive system)
Cantaloupe (contains beta carotene, potassium, amino acids, and antioxidants)
NomNomNutrient Mix
2.8% carbs by weight - 8% carbs through calories
Flavorful Fish Feast
Sustainable Tilapia and Salmon (packed with omega fatty acids to keep cats' coats healthy)
Beef fat (containing a great mix of vitamins, as well as high levels of omega-3s and antioxidants)
Cassava root (with calcium and vitamin C)
Carrot (with vitamin A, for healthy eyes)
NomNomNutrient Mix
2.1% carbs by weight - 5% carbs through calories
Since NomNomNow's founding in 2015, we've grown our customer base by the thousands, served millions of meals to pets across the country, and experienced 650 percent overall growth between December 2016 and December 2017. Our latest round of funding is the largest investment ever made in fresh, made-to-order pet food, and we see it as validation that the industry is (finally!) prioritizing pet nutrition. Pet food made with unhealthy fillers will eventually be a thing of the past, and we're proud to be helping accelerate that trend.
Huge thanks to our customers, investors, and partners for believing in a little company with a big dream. You gave us a chance when we were a few goofy people sharing home-cooked dog food samples in San Francisco dog parks. Through your feedback, we've been able to help thousands of owners around the country give their pets a healthier life. We see a day — not too far in the future — when the idea of a fresh pet food diet is so commonplace, that the average pet owner wouldn't even think of feeding kibble to her dog or cat. With your continued support, we'll get there before you know it.
To learn more about our Series A funding round, be sure to check out our profile in Inc., by Jenna Broughton.
Or, contact us directly...
Email: [email protected]
Phone #: 415-991-0669
Address: 1605 County Hospital Rd, Nashville, TN 37218
---
Previous article
Tasty Turkey Fare Recipe
Next article
The Best Dog Breeds for Families
Recent posts