NOM NOM SCIENCE TEAM SPEAKING AT MICROBIOME CONNECT: ANIMAL 2022
Monday, February 28, 2022
By The Nom Nom Team
Big news: The industry's leading animal microbiome conference is coming in June, and we'll have a seat at the table. Join Nom Nom as we discuss our novel direct-to-consumer approach to address pet parents' greatest needs with novel probiotic products.
The 5th annual Microbiome Connect: Animal 2022 is coming to Boston on June 21st and 22nd. This year's theme? Advancing the development and commercialization of nutritional and therapeutic solutions from lab to label to improve the health of livestock and companion animals.
(Something we know a little bit about.)
---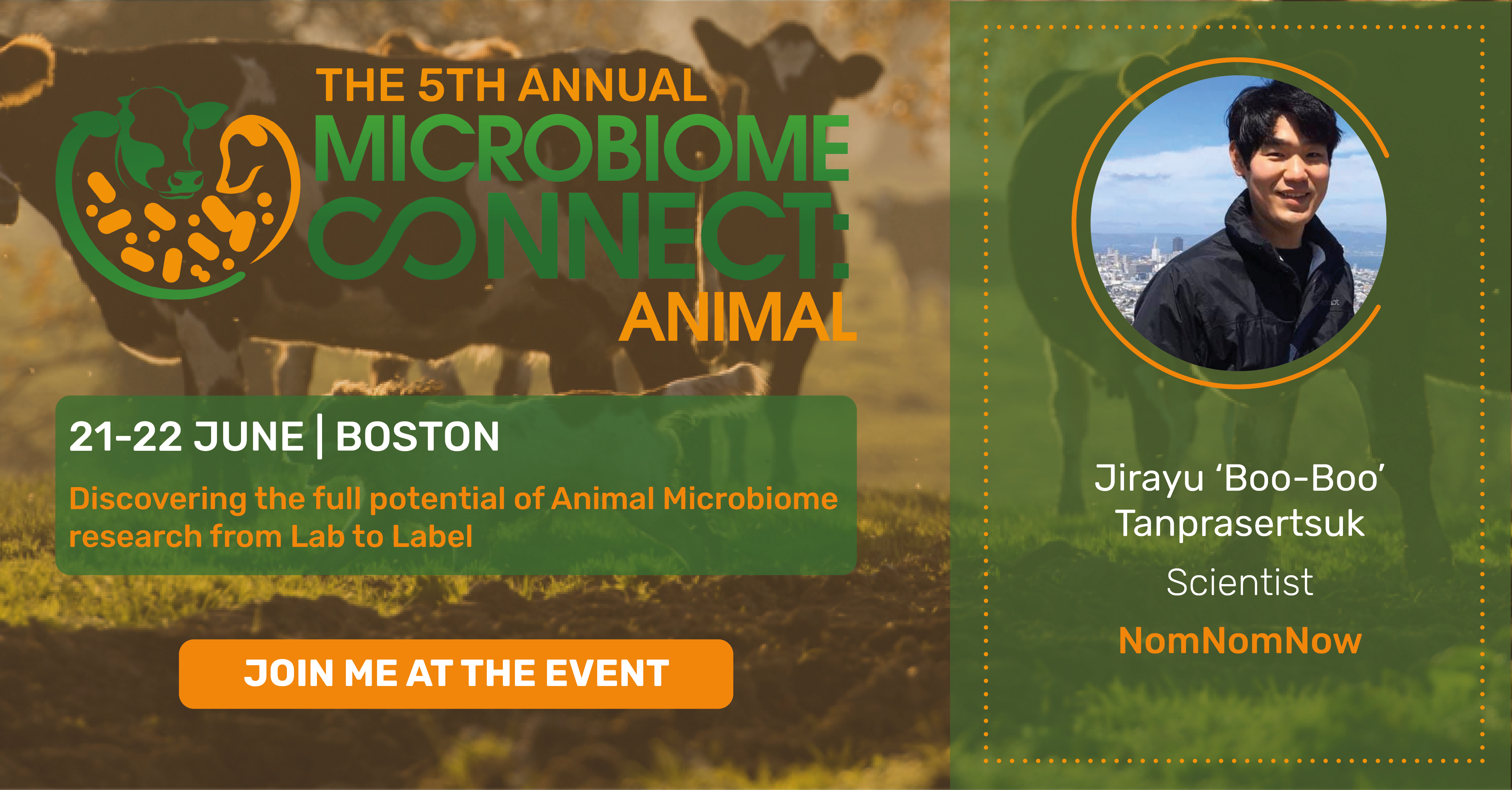 Given his expertise and firsthand experience, Dr. Boo Boo Tanprasertsuk, PhD, our own scientist on the Nom Nom's science team was invited to speak at the event. His talk (titled "Developing probiotic products and examining their impact on health in companion animals") will cover a range of issues in the space, including:
The process of developing probiotic products using direct-to-consumer approaches

Findings from his studies examining the impact of probiotics on the gut microbiome and clinical outcomes, such as

gastrointestinal health

and

allergies

Current consumer trends and future directions of probiotic and gut microbiome research in companion animals
And get excited, gut-heads. Because for the first time, Boo Boo will take the audience behind the scenes and reveal what keeps Nom Nom's Science team buzzing when it comes to developing new probiotic and nutraceutical products.
From identifying the needs of pet parents to carefully choosing healthy ingredients and beneficial probiotic strains — even testing their efficacy and putting final products on shelves — Nom Nom remains meticulously aware of how essential the gut microbiome is for a pet's overall health. Now's our chance to show you how we put that passion into practice.
Join us on 21-22 June, 2022 in Boston, MA as we discuss the issues of the day with animal microbiome experts from all over the world. Check out the conference website for the full agenda, registration info and more cutting-edge research around the pet microbiome.
Hope to see you there!
Tagged under
Microbiome
Previous article
DISCONTINUING: CHICKEN CUISINE FOR CATS
Next article
Dog Treat Recipe: Smoothie Pupsicles
Recent posts