Announcing NomNomNow:SUPPORT - Full Spectrum Probiotics for Dogs
Thursday, November 08, 2018
By Cindy Quach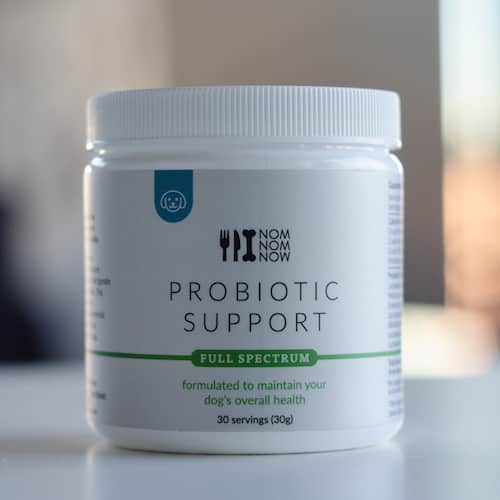 Last month we announced the launch of NomNomNow:INSIGHTS, our microbiome testing kit for pets. This was a really exciting step for us in our journey to become a full service pet health company, rooted in the holistic health benefits of proper nutrition, using science backed by experts. Today, we're thrilled to tell you about the next phase of that journey, with the launch of NomNomNow:SUPPORT, our line of probiotic supplements for pets. Available today, is Full Spectrum Probiotics for Dogs, a probiotic and prebiotic blend made up of 20 billion live cultures, and formulated for overall health maintenance.
Designed by Dr. Ryan Honaker, Ph.D., our Director of Microbiology, and Dr. Justin Shmalberg, DVM, our Chief Nutrition Officer and a board-certified veterinary nutritionist, Full Spectrum is the result of extensive research and review. The formulation is based on meta-analysis of prebiotic and probiotic components with published and demonstrated effects, ingredients with effects supported by data, and much more.
Why should I consider adding a probiotic to my dog's dietary regimen?
Emerging evidence suggests that diversity of gut bacteria may help to maintain normal digestive and immune function, and clinical data supports the use of probiotics in the treatment of acute diarrhea. Full Spectrum can help maintain the health of a dog's intestinal tract, and may also improve overall physical comfort and wellbeing.
How should I use Full Spectrum Probiotics for Dogs?
Each bottle comes with a serving scoop, which you can use to add a single scoop to your dog's food once a day. Serving size is the same for dogs of any size.
What makes Full Spectrum Probiotics for Dogs better than other probiotics out there?
NomNomNow's growing lineup of products is fully integrated, and each of our offerings is meant to work with the rest. You can certainly use NomNomNow:SUPPORT on its own, but you can also combine it with NomNomNow:INSIGHTS to learn more about your dog's microbiome. With one of our microbiome testing kits, you can better determine whether or not a probiotic would help, or whether you should make a dietary change. Those items are designed to align perfectly with our personalized, made-to-order fresh pet food.
Full Spectrum is formulated by NomNomNow's own veterinary nutrition and microbiology team, based on the most current research available. This high-potency probiotic and prebiotic blend contains 20 billion live cultures (at the time of manufacture), including strains specifically derived from healthy dogs. In addition, each batch is independently tested to ensure the integrity of our ingredients.
Purchase your own bottle of Full Spectrum Probiotics for Dogs today!
Tagged under
Digestion
,
Dog
,
Gut Health
,
Microbiome
,
Pet Health
,
Pet Nutrition
,
Wellness
Previous article
Announcing NomNomNow:INSIGHTS - A window into your pet's gut health
Next article
14 Facts About Pet Heart Health
Recent posts