NomNomNow Blog
A rescue's journey from Taiwan to the Bay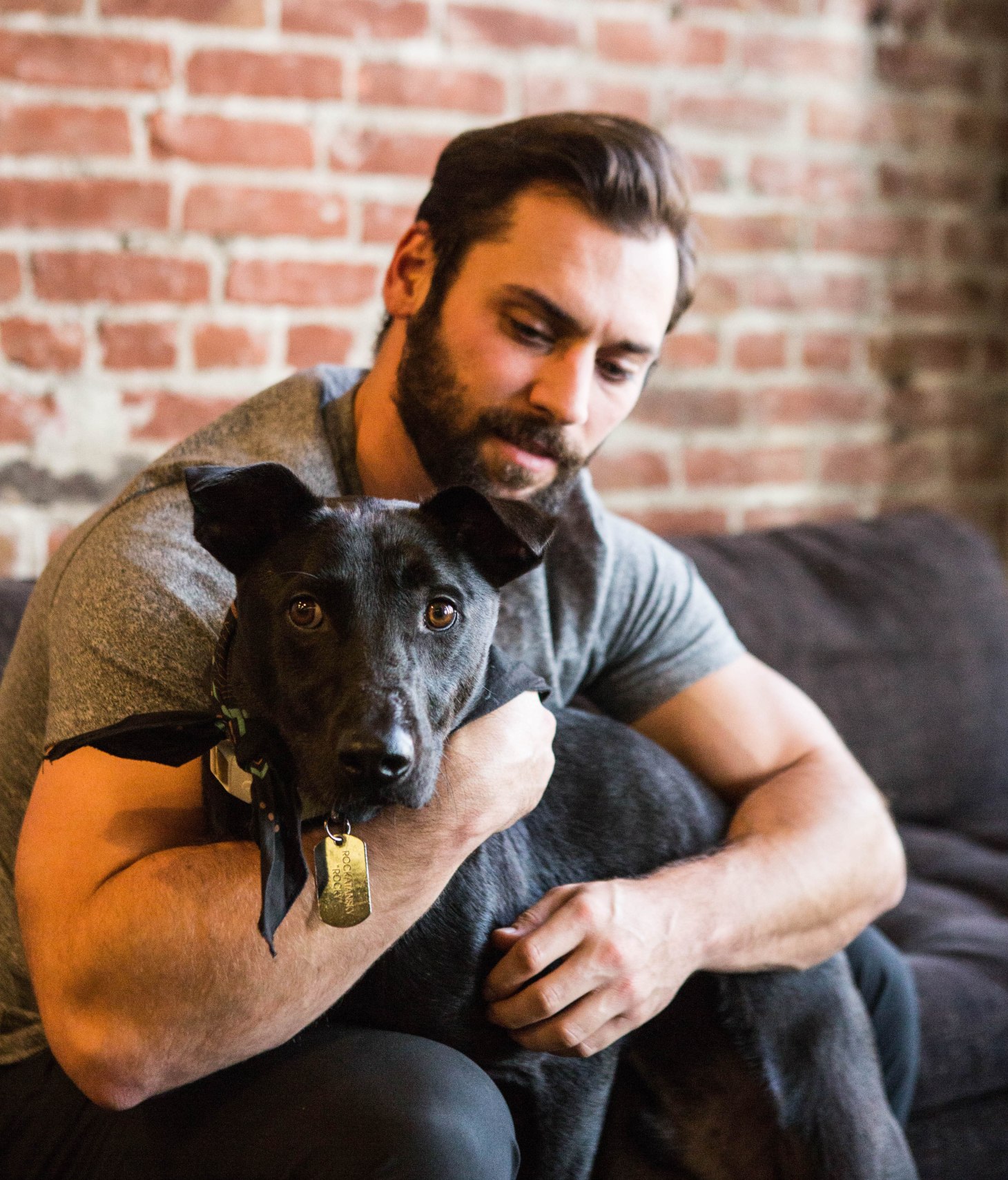 "It turned out to be an intense journey, but I wouldn't change it for anything."
Meet Tim, and his dog Rocky. They're the highlights of our adoption story this week.
Tim is one of our employees here at NomNomNow, and represents an important part of the operations team. He's the guy making sure your dog's meals are perfectly measured, the guy driving packages around the city when we have delivery mix-ups. He's the guy waiting for our tear-notch bags to arrive on barges in the San Francisco harbor, and the same guy ordering our fresh ingredients every Friday.
He became a dog parent this past summer, when he adopted Rocky.
Meeting Rocky
"Kacey and I found Rocky through an agency called HARA (Happiness Animal Rescue Alliance). Rocky was an international rescue from Taiwan.
We don't know much about his life before us. All we have to go off of are the pictures on the rescue site. From those, you can see he had a pretty rough background. He was on the streets when they found him, totally malnourished, unable to walk, barely alive. He was slowly dying on the streets, and we can't imagine if nobody had found him."
After the rescue found Rocky that fateful day, he was placed under vet care for over a month to nourish him back to health. Then, a local foster family took him in as the organization set to work on finding him a permanent home.
"Once we found him online, we asked for a bit more information. We could see photos, but not much more. So they would send us these YouTube videos…(laughs). They would say, 'This dog is good with children!'. And send us a video of him with a child. Or, we'd get one saying, 'This dog is good with cats!', and it'd be a video of him on a bed with a cat. 'He's passive with food!'– a video of him eating and someone pulling the bowl away, and him not reacting. So you know, a few YouTube videos later…"
It was that simple. With just a few photos, a few more videos (and let's honest, one look into those eyes of his), they began arranging to make Rocky a member of the family.
Tim says they paid a small fee, and were told Rocky would fly in to SFO airport that Sunday. Because they didn't have the option to meet the dog before, the agency offered them a small trial period to get to know each other and make sure it worked for everyone.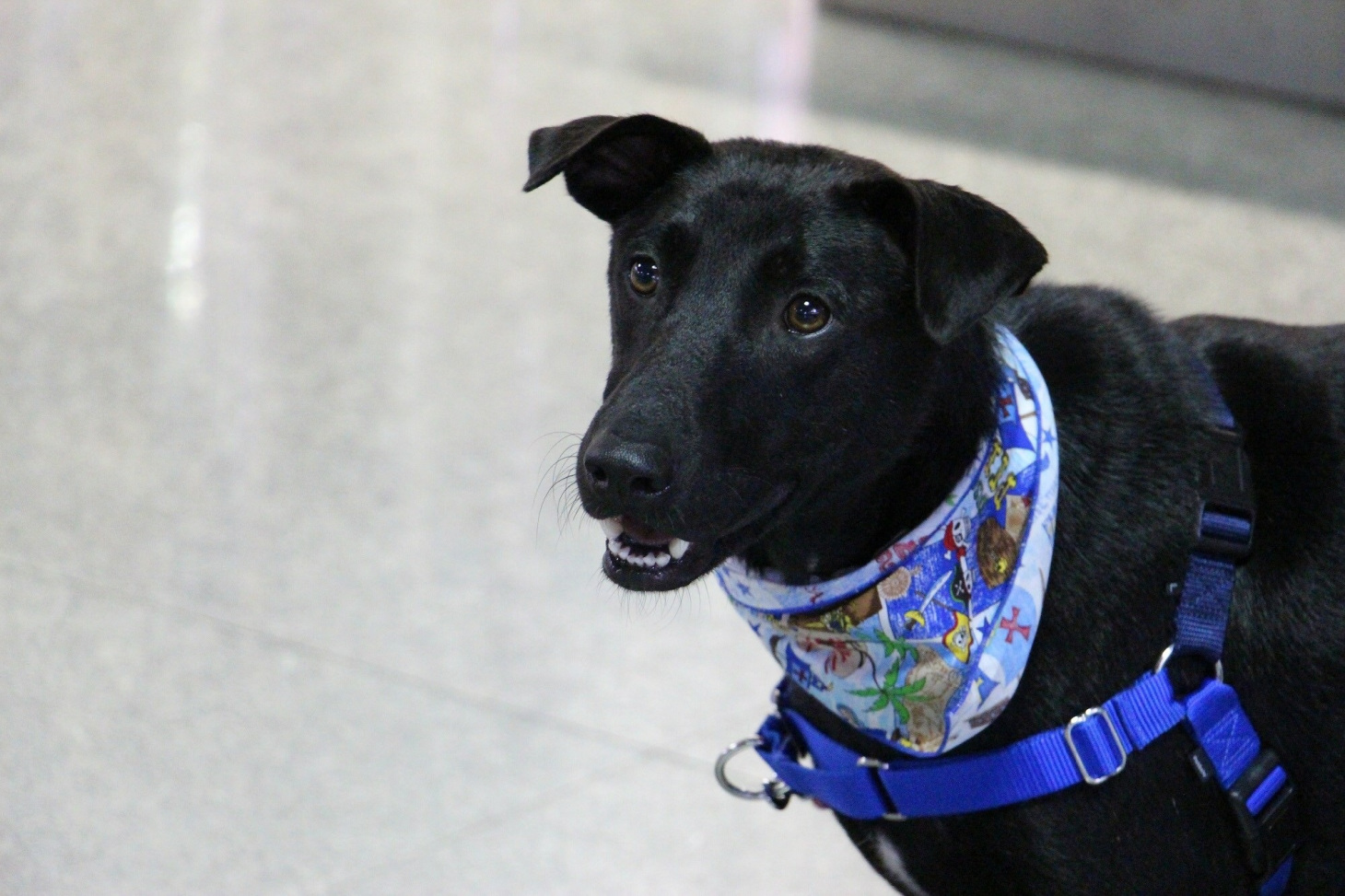 Tim meets Rocky for the first time at San Francisco Airport
"That first month…Well, we had a pretty crazy experience from the first day. We took him for his first walk in the city on our first morning with him. Something must have spooked him because he panicked, slipped out of his harness in the blink of an eye, and bolted before we knew what was happening. I just remember running after him, down 17th street in my pajamas, for at least a mile until I finally caught up with him."
By the time they got home, it seems Tim had the full realization of what being a pet parent is. We all remember when we first truly realized. It's like being a human parent (or, what I'm told about being a human parent)– when you realize the scope of responsibility you've taken on, and how quickly you react when your child, or puppy, needs you.
Tim talks about the rest of the month with Rocky. It was a lot of warming up to each other, as is often expected with a rescue.
"We would sit with him each morning, hoping to encourage him to come out of his crate and interact. We would offer him treats, try to coax him out. Sit there silently with our coffee and just wait. Everything we could think of. To be honest, even by the end of the first 'trial month', we didn't know what to think of it. He was, at best, really shy. At worst, pretty terrified of us. But we could see that things were progressing inch by inch, so we didn't use the trial period as a reason to give up. We kept him.
And it's a good thing we did. In those following months, we saw incredible progress. He's done a complete 180."
If you could see Rocky the first time he came into our NomNomNow office, your heart would melt. He looks at you with those big eyes, sort of prancing as he walks through the room, reacting to everything. He's cautious, certainly, but as you watch him orbit around Tim, looking to him for the confidence to explore the rest of us, you see it's there.
One glance back at his dad, and he'll try playing with the others. He'll slowly wander over to the other side of the room when he's ready, gingerly poking his way around the other dogs and scattered toys. Drop a pen and he might want to run back to Tim's desk, but only the first time. To watch Rocky come into his own is pretty incredible; Tim says they've seen progress every month, but even as a bystander, I see it every day. From hour to hour, he's more comfortable, more confident. By the time lunch rolls around, he's not sure he wants to leave.
"Now, when he hears us upstairs in the mornings, rather than hiding in his bed, he's scratching on the door to come in."
"When we come home each day and open the front door, he runs and greets us– he's so excited, he can't even handle it. He follows us around, wants to be a part of everything.
He's really warmed up to us, and we're so glad we gave him the time he needed to do that. It's really just about time with rescues."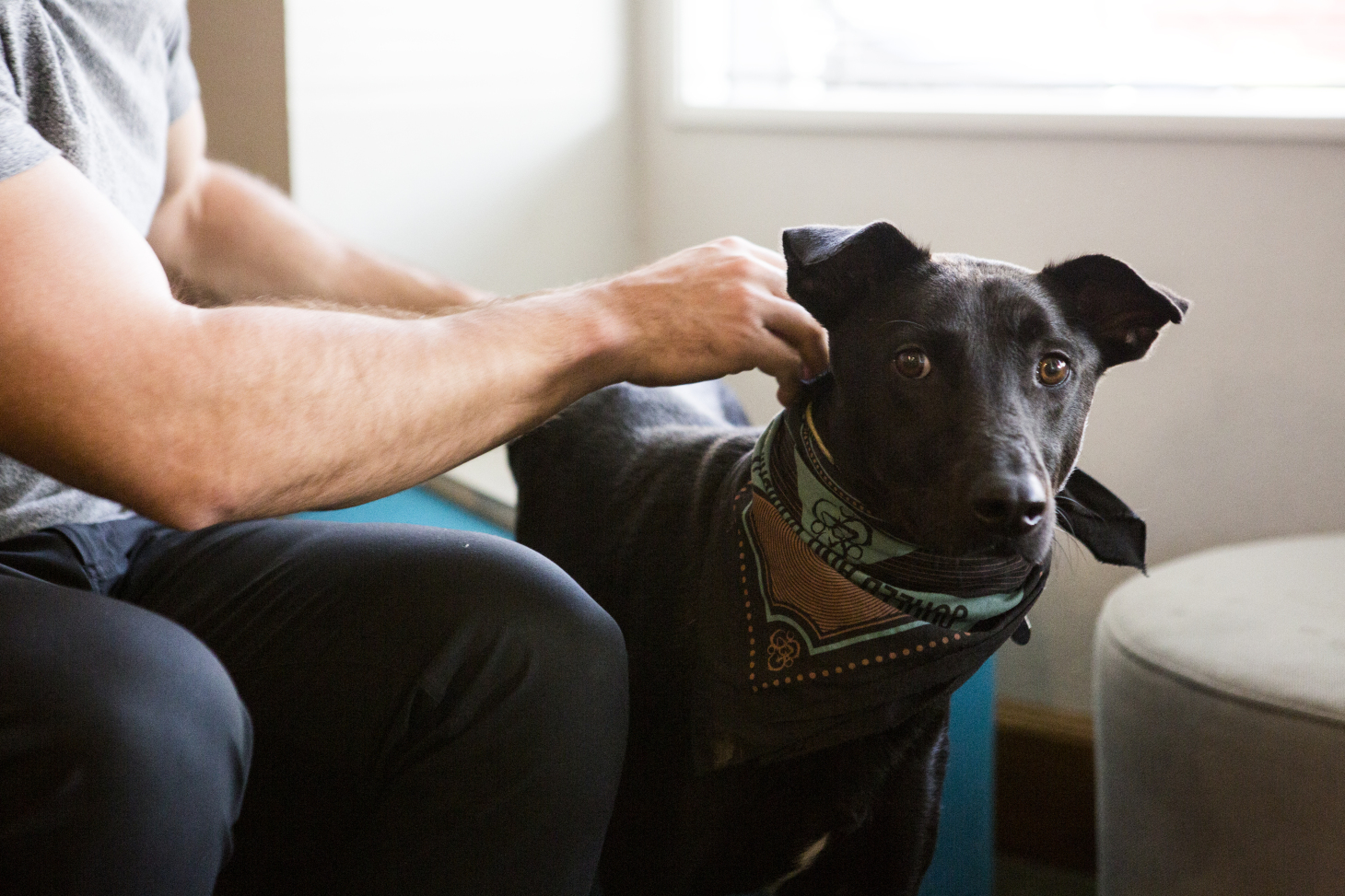 Hearing stories like Tim and Rocky's reminds us of the beautiful experience of adopting. It's such a challenge to bring home a dog with a history that nobody really knows much about. What will spook him? What challenges will he face in trusting his new parent? But at the end of the day, every adoption story reminds us of why we are so determined to save lives and give homes to dogs in needs. The reward is that much sweeter; the reward of truly bonding, of the bond as a choice you both make rather than a default, and the endless reward of knowing where Rocky came from and where he is now.
"It was an intense sort of journey. But at the end of the day, we knew what the challenges were with adopting a dog.
"When we look at what his life was before, and just how much his life has improved in 5 months…It's amazing to see."
"And it's directly because of the love we've given him. Hey, and the food ;)"
To learn more about HARA, you can visit their site here. Tim says he and Kacy chose to donate after adopting, because they can't imagine the adoption fee is enough for the agency to break even with all the amazing work they do. Let us know if you choose to adopt from HARA, and we'll help give back to them as well.
---