4th of July - Not A Typical Day For Pets
Friday, June 29, 2018
By Dan Massey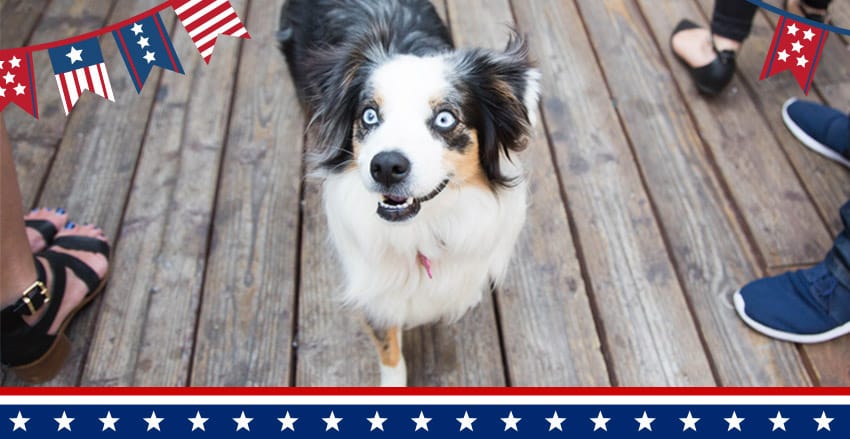 There are many reasons to love the 4th of July: fireworks, family, friends, food, and fun are just a few to name. However, unlike us, our pets don't associate the loud noise and flashes with celebration. They are generally terrified of fireworks, and lots of other noises can also worsen their anxiety. More pets (primarily dogs) go missing on July 4th than any other day of the year. Here are four NomNomNow calming recommendations for a safe and happy Fourth of July holiday!
1. Exercise Early
Activity is one of the most crucial pet behavior modifying techniques. The more opportunities your dog has to exert his energy, the better behaved he should be during down time. If your normal cadence of activity is primarily in the evening, it may be a good idea to adjust that timeline and take your dog out for his daily exercise in the morning or early afternoon.
Try to give him a bit more time to play or spend some more time throughout the earlier hours practicing tricks, rewarding him using treats or his daily allotment of food. All of this should tucker him out enough to where, if you're lucky, he'll sleep through the fireworks.
2. Avoid the Festivities
You may be used to leaving your pet at home alone, but this won't prove to be a normal event for him, and his anxiety at home alone could go into overdrive. If you do choose to leave him at home alone, ensure you exercise him enough prior to you leaving. Also, it couldn't hurt to leave him with his favorite healthy snacks and leave the TV on to dull the firework noises happening outside.
3. Stay Calm
Pets, like children, take cues from their parents. If you're happy, their happiness level can soar with you. Conversely, if you're at all anxious, that anxiety may roll over to your dog. From planning for the day to the way you are organizing his life, your dog reacts to your emotions.
Take a few minutes throughout the day to give a little love to your pet. This can ease his anxiety and also help you calm down and tackle the holiday with less stress. Use calming, soothing tones in your interaction with him so the fireworks and other festivities won't seem as daunting when it's upon both of you.
4. Add Identification
At a time like the 4th of July, where we want to spend it with our pets outside at a barbeque or by a lake, we tend not to be as attentive as we would at other times. Believe it or not, many scared dogs go missing at times such as these, especially when the fireworks start to go.
Be as safe as you can for you and him. Adding a simple identification tag on the collar (or if you have the time and means, speaking to your vet about adding a microchip identification) can save you and him a lot of unnecessary stress. Be sure to add his name, your contact number and address.
Wishing you a safe and happy Fourth of July from all of us at NomNomNow!
---
Previous article
Petsicles: Staying Hydrated and Happy All Summer
Next article
Give Back for National Mutt Day
Recent posts